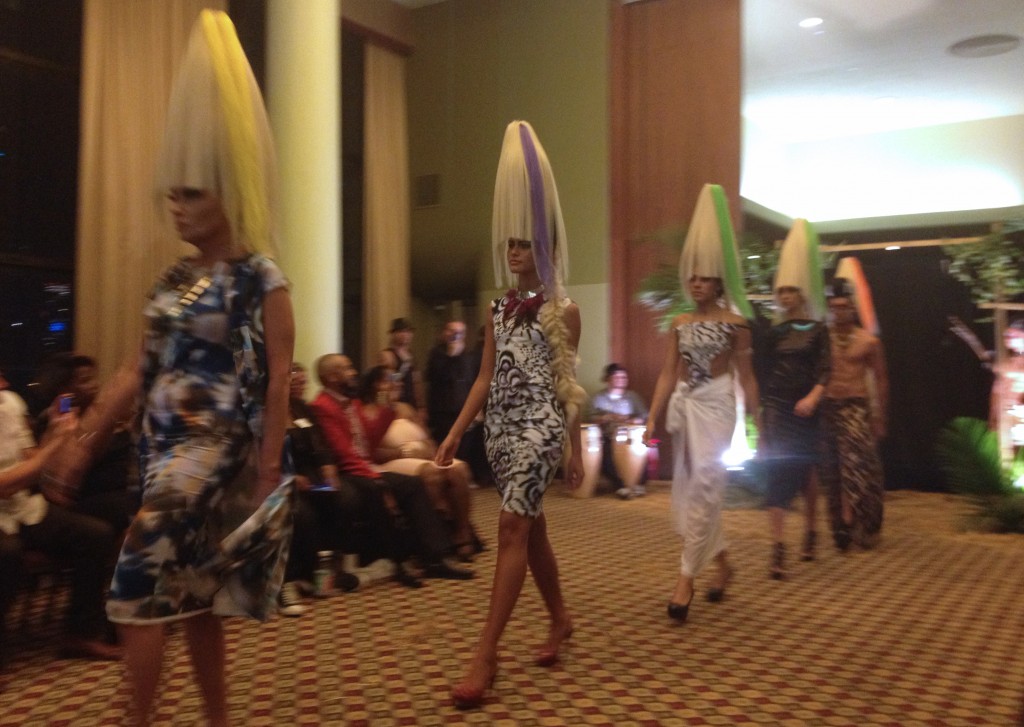 Entitled "Monserate" after the designer's Puerto Rican grandmother, Adrian Alicea's Spring/Summer 2014 show featured wild animal prints inspired by tropical rainforests and islands of the Caribbean. New York's Hotel Pennsylvania set the scene for a diverse, tribal-inspired catwalk.
The clothes ranged from Wilma Flinstone-meets-The Lion King ensembles to more wearable, abstract interpretations of rainforest prints and colors. Beginning with zebra-printed dresses, meandering into island skyline-print blazers, tropical color-blocked full-length jersey gowns, and finishing with lingerie-inspired lace two-pieces, Alicea displayed a wide array of avant-garde streetwear. Standouts included bras and epaulets made of feathers and island-collage printed suit sets.
Despite feeling a bit costume-y at times, the styling stole the show. Hair was teased into afros, with braided extensions cascading down models' back and feather accessories protruding from the top. To keep with the native island aesthetic, some models went barefoot, some featured patterned face makeup, and one even bared a breast. The laid back, summery, natural vibe was clear throughout the show.
Coinciding with the theme of the rainforest, a portion of the show's proceeds went towards the Global White Lion Protection Trust, an organization dedicated to preserving the endangered species. Airbrushed paintings of white lions by Joanna May were auctioned off to benefit the charity, contributing to the rainforest theme in a more profound way than the sartorial. Overall, Alicea proved his appreciation of the islands in more ways than one.