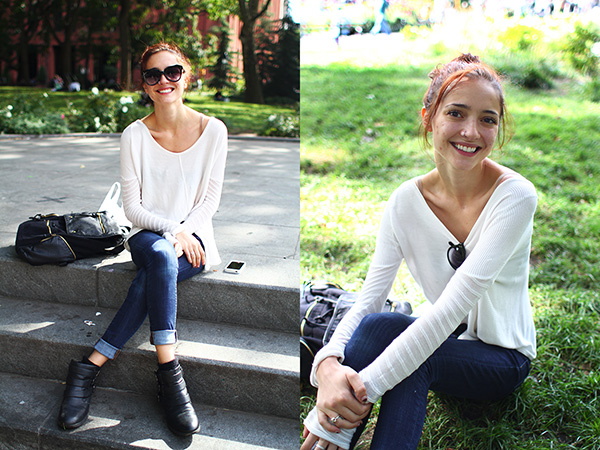 With homework, deadlines, subway fares and a city of eight million people, an internship can seem like just another bullet point on the average college student's to-do list. For Gillian Fuller, however, this was far from true — she is an intern turned freelancer for the fashion department of Time Out New York magazine.
A Steinhardt senior studying Media, Culture and Communications, Fuller heard of an editorial intern position through a mutual friend at NYU and began in November of last year. Using the NYU internship database to guide her along the way of her time at the magazine, she felt that NYU played a key part in helping her learn more about herself in the professional world.
"You pinpoint what you want to do, what you want to improve on [and] what you don't like so much," Fuller said.
Of course, one of her most memorable experiences at Time Out was New York Fashion Week. Receiving some of the most creative invitations was the first sign of what a surreal week it soon would be — her favorite invitation was none other than that of Betsey Johnson, who sent used pill bottles in her classic playful style.
"I went to Trina Turk last year, and it was the first time I had been to Lincoln Center," she said. "It was so cool, and it was set up as a presentation, so you could take your time and get up close to the models," Fuller said.
Having the opportunity to go to numerous fashion shows as an intern is a big perk of the job, and who wouldn't enjoy getting a free gift bag of goodies every now and then, as well? "I went to a presentation for Journelle, and I got a La Perla thong," she said, laughing. "Then, I went to an [Obsessive Compulsive Cosmetics] show and they gave us their entire fall collection of makeup."
It's definitely enticing to be an intern in the big, bad world of fashion, but everyone must earn their share of frivolity with some hard work first and Fashion Week is no exception. "Our Fall/Spring Fashion issue is released the week that Fashion Week starts, and it gets crazy hectic. We always have hundreds of samples coming in every day, [and] we had to contact a lot of people for credit information on stories," she said.
Additionally, Fuller played an important role in shooting the cover for last spring's issue featuring famed model, TV presenter and contributor to British "Vogue," Alexa Chung.
"We had probably six rack fulls of [exclusive couture] clothes for the shoot, so all of us were really careful like, 'Oh, this is Chanel. I really can't drop it on the floor.'" she said.
So what advice does Fuller have for those seeking to hold a unique job in the trendiest industry?
"Definitely soak up the experience. There's [going to] be times when you're insanely busy, but just do it because they're all helpful and amazing experiences," she said.
Of course though, the most crucial issue is how to dress for Fashion Week, but the intern has that covered, too.
"When in doubt, wear black," she said.
A version of this article appeared in the Thursday, Sept. 12 print edition. David Bologna is a contributing writer. Email him at [email protected]