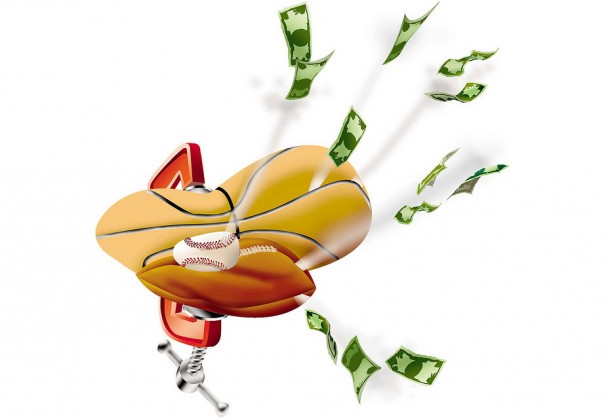 The vast majority of the population would be absolutely astonished if they knew how expansive and profitable the professional sports industry is across the world. Plunkett Research Ltd. estimates that the business grosses about $440 to $470 billion annually. This number includes professional sports revenue, as well as sporting apparel, advertising, video games, and equipment.
The industry is a money-making machine for corporate interests and its roots stretch far and wide in our society. The question is, to what extent should players be compensated for these profits and how much would it take to be considered obscene?
One of the most infamous contracts given to a player in any sport was signed by Alex Rodriguez in 2007. After opting out of his previous contract, A-Rod received a 10 year, $275 million deal from the New York Yankees at the age of 32. This meant that he would be paid an average of $27.5 million per year until he was 42 years old, which is far beyond the prime years of physical prowess for any baseball player.
To put this into perspective, if healthy, a baseball player will typically play 600 at-bats in a season. This means Rodriguez is making almost $46,000 per at bat. Obviously this oversimplifies the math, but the larger point of the sheer size of the contract still stands.
This phenomenon extends beyond our national borders into Europe and beyond. Soccer is the most popular sport in the world and people are willing to spend a ton of money to watch the best teams and players compete.
On Sept. 1, Tottenham Hotspur of the English Premier League traded their 24-year-old star player Gareth Bale to Real Madrid for a sum of €100 million, which equates to about $132 million. In his most successful season at Tottenham, Bale scored 26 goals for the club. If you only go on past performance, Madrid paid Tottenham about $5 million for each one of the goals Bale scored.
In economic terms, we see a few things at work here. One is a theory called the economics of superstars. This essentially stipulates that based on skill, name recognition or other factors, certain people deserve a far greater sum for their service even though it may be comparable to someone else, according to economist Sherwin Rosen. Michael Cuddyer, an outfielder for the Colorado Rockies, hit the same number of homeruns as Alex Rodriguez in 2012 (18), yet is paid roughly one-third of A-Rod's annual salary. Why? Because the vast majority of people haven't heard of Michael Cuddyer and wouldn't pay a cent to see him play. Rodriguez, despite being mired in controversy, still raises ticket sales for the Yankees even though his performance has decreased dramatically.
The second factor is the idea of supply and demand that most of us are familiar with. The fact is that the majority of professional athletes are paid a good deal of money. The minimum contract in the NBA for a veteran of the league stands at about $1.3 million. The minimum for a MLB player of any tenure is over $400,000. What is the simple reason they are paid far more than the average worker? Essentially, it is that there aren't that many people that can hit a baseball thrown at 95 miles per hour or shoot a three-pointer consistently. The same goes for other sports.
These factors, along with the lucrative nature of the business, have lead to the proliferation of continuously increasing sports contracts. The amount of tickets the Yankees or Real Madrid will sell, as well as merchandise and concessions, will far outpace what they have paid for players like A-Rod or Bale, other factors notwithstanding.
The prices of these contracts will only go up as long as executives find ways to squeeze more money out of this already profitable industry. Even though basic economics explain this phenomenon, morality disagrees. In time public opinion and outrage will catch up with professional sports, just like they did with the financial industry in 2008.
A version of this article appeared in the Wednesday, Sept. 11 print edition. Chris Marcotrigiano is deputy sports editor. Email him at [email protected]