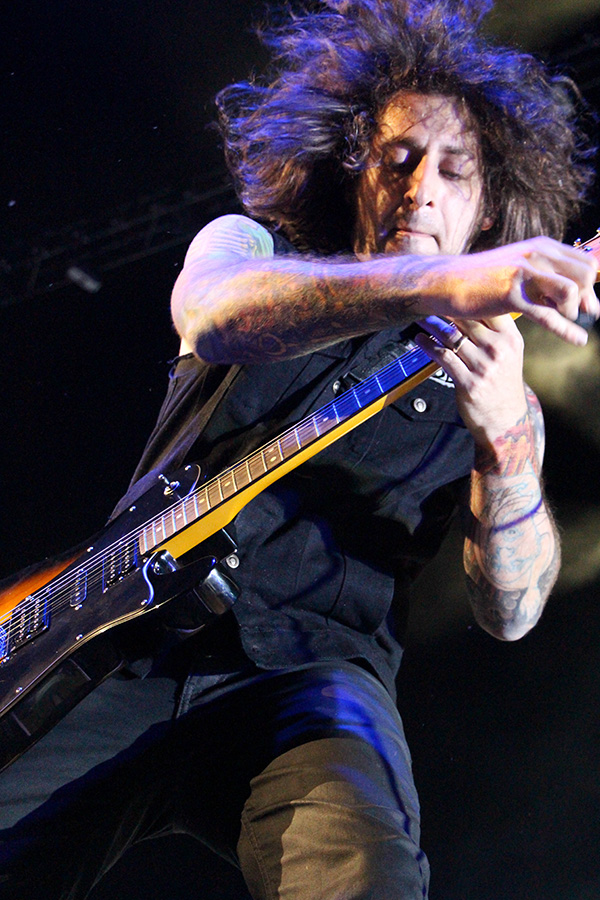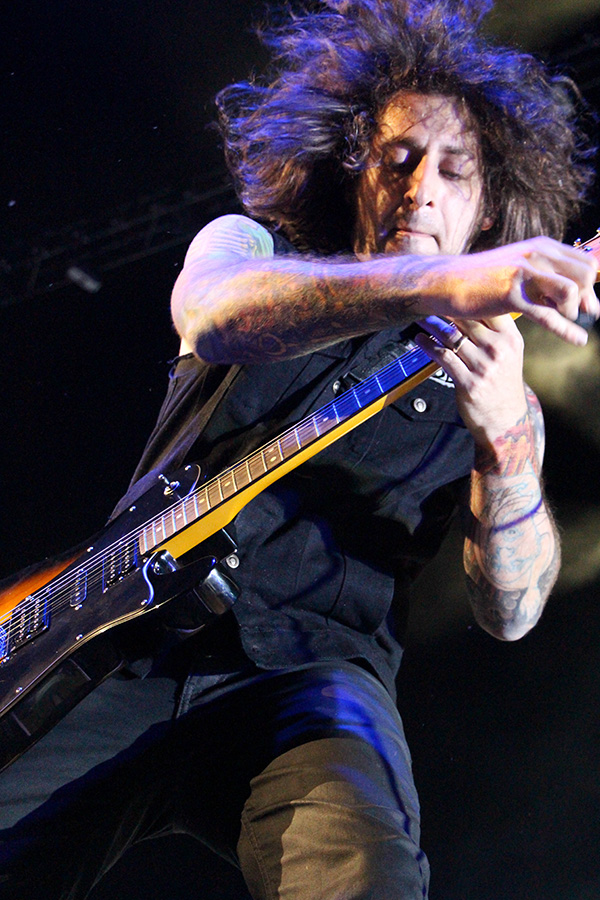 Olivia Ellis for WSN
Wentz, the bassist and designated bandleader, announced his hope to inspire someone in the crowd to start the next Green Day or even the next Fall Out Boy. Long before the sold-out performances, arena tours and award shows, Pete Wentz, Patrick Stump, Joe Trohman and Andy Hurley of Fall Out Boy were four high school kids from Chicago, aspiring to be the next Green Day or the Descendents. Gradually moving from a handful of devoted fans to an eager, packed house at Brooklyn's Barclays Center on Sept. 7, the name of their most recent album and current tour, "Save Rock and Roll," suggests that they harbor dreams to do just that.
Before Fall Out Boy took to the stage, Panic! At The Disco opened up the show and set the pace for the night. Panic! defined much of the audience's teenage years, which they took into consideration throughout their performance. Although Panic! played new songs such as "Miss Jackson" and "This Is Gospel," the crowd couldn't help but jump at the opportunity to chant along to the likes of "Nine in the Afternoon" and "I Write Sins Not Tragedies." Frontman Brendon Urie even contributed his own humor by introducing "Tragedies" as a new song. After 10 songs from Panic!, Fall Out Boy finally stepped onto the stage.
"If the four of us can make it up here," he said, "then anyone can."
Songs that set the tone for many audience members' teenage years served as reminders not only of Fall Out Boy's progression but as demonstrations of how, throughout the successes and pitfalls, the four rock stars gracing the stage are still the same four Chicago music-lovers at heart. Classic hits such as "Sugar, We're Going Down," "A Little Less Sixteen Candles, A Little More 'Touch Me,'" and "Dance, Dance" added to the nostalgia, while performances of "Saturday" and an acoustic rendition of  "Grand Theft Autumn (Where Is Your Boy)" represented the rest of Fall Out Boy's journey.
Taking songs originally designed for smaller venues, the older songs took on new, explosive forms as they rang through the 18,000 capacity venue. But song from "Save Rock and Roll" are meant to be performed in larger venues, so their enhanced production echoed purposefully through the arena. The band built on their foundation of nostalgia with their newest album's top-15 single "My Songs Know What You Did in the Dark," "The Phoenix," "Young Volcanoes" and "Alone Together." Stump's powerful vocals, Wentz's demanding stage presence, Hurley's driving percussion, and Trohman's famous leaping and masterful guitar playing were consistent through every song.
With promises to live up to their ambitions, Fall Out Boy surprised New York with special guest appearances. Travie McCoy rushed on stage for a rendition of "Billionaire," while Marky Ramone shocked audiences with performances of "I Wanna Be Sedated" and "Blitzkrieg Bop." But, amid the surprises, Fall Out Boy still finished in typical fashion, concluding their encore with "Thnks fr th Mmrs" and "Saturday."
The "Save Rock and Roll" tour clearly seeks to inspire crowds to embody the Fall Out Boy experience and join the journey to save rock and roll.
"Rock and roll should be a transformative experience," Wentz exclaimed.
Alexa Spieler is a contributing writer. Email her at [email protected]