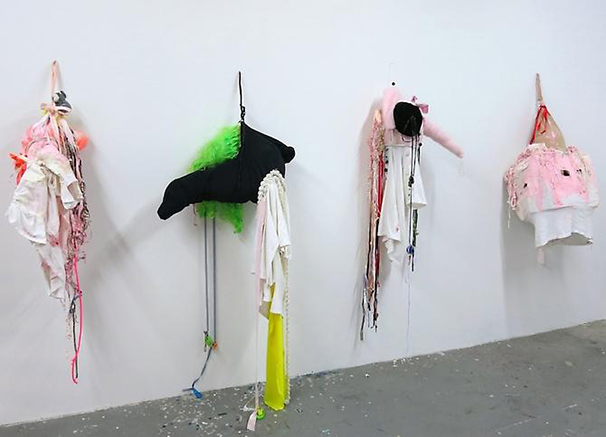 Visitors to Bodybeautiful receive a glass of wine before making their way to the show space, where a pile of debris on the floor greets the viewer, the meaning of which is initially confusing. However, it is a part of the show. Bodybeautiful, an exhibit with a mishmash of media such as video, collage, drawings and performance, is meant to explore and emphasize the ridiculous and absurd aspects of being a woman.
The exhibit was created by Katya Grokhovsky, a Ukrainian immigrant who uses her body as a medium for her art. In the video presentation, she addresses expectations of female bodies and the search for belonging. The viewer can feel Grokhovsky's sense of claustrophobia, and they almost become trapped in the work themselves, which contributes to the idea of being trapped in our bodies and being forced to conform to American ideals of femininity.
"This has a lot to do with being a woman in a certain body and a feeling of 'I should be thinner, I should be this, I should be that' and 'I just can't,'" said Grokhovsky, who has a background in fashion and dance.
"There is a feminine aspect and gender exploration aspect that everyone should be able to connect with," show curator Peter Gynd said.
Gynd worked with Grokhovsky as the season opening artist last year and returned to curate Bodybeautiful.
Grokhovsky's work comments on the sadness and humor in all things inherently feminine.
"You should walk away with a feeling that there is no object or subject you can't touch," she said. "You are free to explore the darkest, deepest thoughts and emotions in any medium."
Much of the exhibit may be confusing, but this is Grokhovsky's intent.
"You should walk away with questions, not answers. That is the point of art. It should start a conversation," Grokhovsky said.
Grokhovsky's conceptual art show will resonate with art connoisseurs and amateurs alike.
Bodybeautiful is showing from Sept. 5 through Oct. 10. Grokhovsky will perform live Oct. 3 from 6 to 9 p.m. at the Galerie Protégé at 197 Ninth Ave.
Aziza Ingram is a contributing writer. Email her at [email protected].
A version of this article appeared in the Monday, Sept. 9 print edition. Aziza Ingram is a contributing writer. Email her at [email protected]