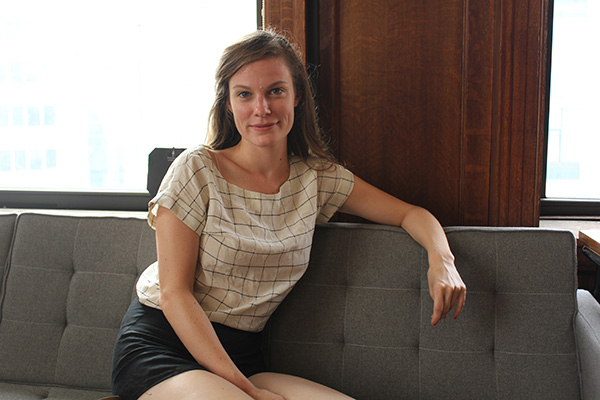 School is back in session, and there's no better time for the release of Hannah Fidell's new drama, "A Teacher," about a high school English teacher's dangerously intimate relationship with her student, in theaters Friday. For lead actress and NYU alumna Lindsay Burdge, "A Teacher" is the type of breakout role that actors dream about — an opportunity for Burdge to showcase her incredible range. Her character progresses from a dreamlike haze to a horrific nightmare as she realizes the pitfalls of her behavior.
In an interview with WSN, Burdge discussed what it was like to play the deeply troubled Diana Watts, and her refusal to provide a history or explanation of how her character came to this state of mind.
"What's kind of beautiful about it to me is, much like when you're sitting on the subway and you're just watching somebody across from you who you can tell they're just going through something, all that you can do is imagine what's going on with that person," Burdge said.
Burdge created an in-depth backstory for her character, but when asked to share, was tight-lipped on the details. Instead, she would prefer viewers to come up with the answers themselves. Burdge then referred to a line from Oscar Wilde's "The Picture of Dorian Gray," a book she browsed through while getting into character as an English teacher — "It is the spectator, and not life, that art really mirrors."
"That particular phrase … that was kind of a revelation," Burdge said. "Because if [a film] is not spelling every single thing out for you, then it does give you a chance to sort of look at yourself."
"I feel like if anything, I find out more about you from what you saw," she said.
As for Burdge's own background, she attended Westridge School, an all-girls school, where she ran around with an artsy and opinionated group of friends, and described herself as "a little bit of a troublemaker." Burdge graduated from NYU in 2006, where she was a student in the Lee Strasberg Theatre & Film Institute in the Tisch School of the Arts.
"It was a dream come true to get to come to NYU," Burdge said. "All I wanted to do was be in New York City."
But the educator who made the greatest impact on Burdge's life was not a professor at NYU, but rather her drama teacher from fourth to 12th grade, who unfortunately passed away right before the filming of "A Teacher."
"He was like a best friend, practically," Burdge said. "I can safely say that maybe a lot of the sorrow around [his passing] actually went into this film."
And while Burdge's character may regret the life-shattering choices she's made, Burdge herself fully embraces her past, in all its awkward glory.
"I'm not one for regrets," Burdge said. "I made a lot of mistakes, I can say that safely, but I don't necessarily regret them."
A version of this article appeared in the Thursday, Sep. 5 print edition. Jeremy Grossman is arts editor. Email him at [email protected]