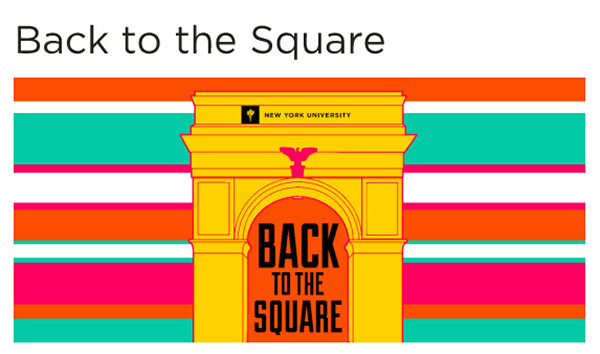 Incoming students are not the only ones with a week of welcoming events.
NYU's Back to the Square is an assortment of programs designed to welcome returning students back to school. Scheduled during the first and second weeks of classes, Back to the Square features over 20 events ranging from live music and musical theater to a commuter welcome lunch.
"Because Welcome Week is for new students, the Division of Student Affairs felt that there was a need to have something to welcome back returning students and reacclimate them to resources and involvement opportunities," said David Vogelsang, executive director of the Student Resource Center, the organization that helped organize the event.
Back to the Square has been in existence for about 10 years, but some of the individual events are much older traditions, like the Mystery Concert.
"[The] Program Board has been around since the '70s, and there were mystery concerts in the '90s," said Steinhardt senior Caroline Valdes, a concert committee co-chair for the Program Board.
Club Fest, which takes place Sept. 9, will introduce students to the 400 student organizations registered with NYU. Although the event serves to familiarize freshmen with the university's various student clubs and organizations, CAS senior Guillermo Roque said his All-University Gospel Choir club tries to attract older students as well.
"It not only allows for more talent and passion to enter our group, it also ensures the longevity and diversity of our mission and our sound," said Roque, co-president of NYU's All-University Gospel Choir.
CAS sophomore Mike Cziner said he appreciated Back to the Square helping him readjust to life at NYU.
"Many students loved the atmosphere and school spirit during their freshman Welcome Week, so a sort of welcome week for older students is nice to see," Cziner said.
Vogelsang said reacclimating students is the SRC's primary goal with Back to the Square.
"NYU is a big place," Vogelsang said. "I hope students will take advantage of the opportunities to connect or reconnect with other students and look into new involvement opportunities within their school by joining a club, attending a reception or just stopping by an office to explore what new things might be happening."
More information about Back to the Square is available on NYU's website.
A version of this article appeared in the Tuesday, Sept. 3 print edition. Billy Richling is a deputy news editor. Email him at [email protected]