Summer in review: New York City news roundup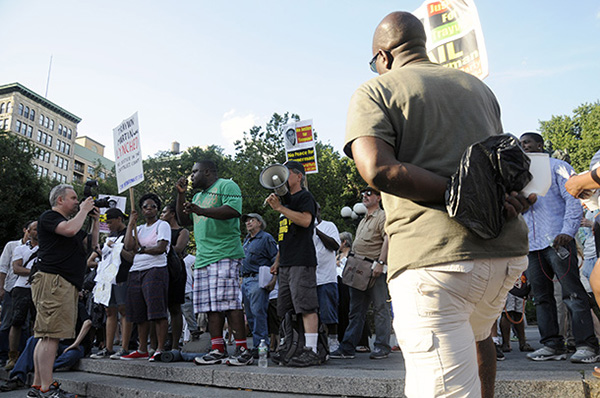 For a city like New York, change is frequent, and the summer months have been no exception. New city programs were tested, policies overturned and cultural institutions altered. Here are a few of the biggest changes you should know about as you settle into the city.
Bike Share
Since its introduction in May 2013, CitiBike has been making transportation waves across New York City. As of August 16, there have been 2,186,228 cumulative trips on CitiBikes since the launch of its 320 active stations. According to data compilations from the past two months, the bikes are most popular on weekends, despite problems with bike distribution among the stations that have occurred. CitiBike has created a team of rebalancers to address this issue. CitiBike has also announced a partnership with Bike & Roll, a rental and tour company, to give CitiBike users a discount for helmet rentals. Check out CitiBike stations on University Place, Washington Square East and next to Rubin residence hall.
AT&T charging stations
AT&T is sponsoring a pilot program called Street Charge, which has set up 25 free solar mobile charging units distributed across all 5 boroughs. A June 18 AT&T press release announced that they were motivated to create the stations because of Hurricane Sandy. Some of the nearby charging stations are located in Union Square, Hudson River Park and Tompkins Square Park. Each unit can charge up to six phones at a time including iPhones, Androids, Blackberrys or any phone that uses a standard USB cable. The New York Times reported that stations will be in place until October, and could expand to other cities if it is a successful project.
Stop-and-Frisk
The stop-and-frisk policy practiced by the New York City Police Department was ruled unconstitutional on Aug. 12. Stop-and-frisk was linked to racial profiling — The New York Times reported that 83 percent of stops from 2004 to 2012 "involved blacks and Hispanics." The city plans to appeal the decision, and the judge ordered community meetings where the public could voice its opinion. In addition, certain officers will be required to wear cameras while on the street.
Trayvon Martin Protests
After George Zimmerman was acquitted in the Trayvon Martin case, a large protest began on July 14 in Union Square Park. Protesters marched around the East Village and ended in Times Square, with some arrests taking place for blocking traffic. The night prior, when the verdict was released, a group also gathered in Union Square with candles and posters.
Madison Square Garden Moving
Madison Square Garden will be moving from its current spot above Penn Station to a currently undetermined location in the next 10 years, after a vote by the New York City Council. The Bloomberg Administration was going to extend the operating permit for 15 years, and the Garden wanted the permit extended indefinitely. There are aims to rebuild and expand Penn Station, while the current Madison Square Garden's most recent renovation will be completed this fall. Both the Knicks and the Rangers play home games in Madison Square Garden. It is also the site for many concerts and events for the city.
The Met 
The Metropolitan Museum of Art is no longer giving out the colored metal tokens with an "M" on them to indicate admission. Instead, paper tickets with stickers are to be worn and are being used as a cost-saving measure. The buttons were seen as part of New York's culture and history, with many people saving theirs as souvenirs since their introduction in 1971. In another first-time change to a 1971 tradition, the Met will also be open on Mondays.
A version of this article appeared in the Sunday, Aug. 25 print edition. Emily Bell is a news editor. Email her at [email protected].