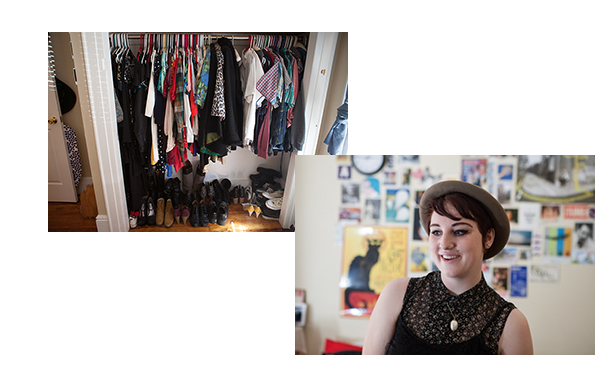 While many people consider Mackelmore's "Thrift Shop" a dance track, LSP sophomore Brianna Roche-Lilliott, more widely known as Brie, considers it a way of life.
Don't be surprised to see Roche-Lilliott on a bench in Washington Square Park rocking a polka-dot pencil skirt with a white lace tank top equipped with black tights, yellow motorcycle socks, black loafers and a light brown leather jacket — all purchased at small, unique stores.
At age 15, she landed a job at a vintage store in her hometown in California and has been an avid fan of second-hand shops and vintage outfits ever since. Her style is certainly distinct, as she prides herself in not owning a single piece of clothing from popular stores such as H&M or Aeropostale. Today, she is the happy owner of more than 50 dresses.
As a West Coast native, Roche-Lilliott was never given the opportunity to enjoy months of chilly air and lower temperatures even though her closet is filled with a wide selection of coats. Studying in New York City has given her the much-anticipated chance to wear her beloved collection of jackets.
"Winter is my favorite season because I love layering," Roche-Lilliott said. "You can combine so many patterns of clothes."
Since coming to New York, Roche-Lilliott has expanded the number of shoes she owns, indulging her love for boots and heels.
"Heels are the prettiest shoes," she said. "I feel like I'll just buy them and then find the perfect time or occasion [to wear them]."
Last year, Roche-Lilliott studied abroad in London for an academic year, and her passion for following fashion trends and standing out deepened. Roche-Lilliott was inspired by the way people were able to be fearless and willing to take risks. The fashion culture motivated her to try new things and commit to a fashion identity.
This new identity led Roche-Lilliott to shave the side of her head for a punk vibe. Now, almost a year later, she has once again shifted gears and decided to dye her hair a darker shade and sport a shortcut inspired by classic French fashion.
Today, Roche-Lilliott lives in Brooklyn, where she can most likely be found raiding the racks at vintage stores in her neighborhood, including Beacon's Closet in Park Slope and Pony, a secondhand shop near her apartment.
"Clothes and fashion are important because they are not only a good way to stand out but an opportunity to show a piece of who you are," Roche-Lilliott said. "I love history and culture, so I dress in vintage to show my interests. Plus, if you live in New York City, you have to dress well."
Kimberly Schu is a staff writer. Email her at [email protected]