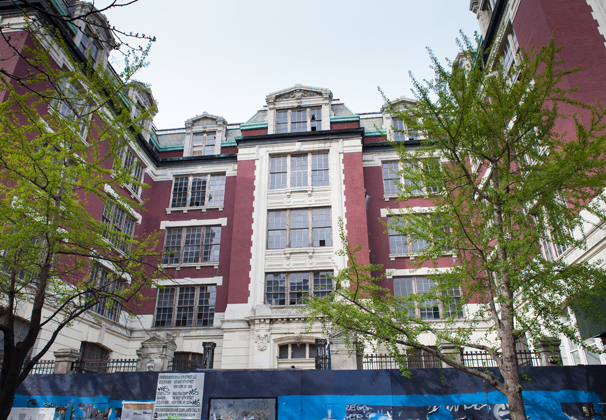 The Greenwich Village area will soon be the home of a new dorm that will house students from different colleges throughout New York City.
After sitting dormant for over 30 years, what used to be P.S. 64 — located at 605 E. Ninth St. — is being transformed into a 500-bed dormitory named University House. Featuring amenities such as a TV media lounge, large and private study rooms, a game room and music practice rooms, the dorm will also have a fitness center, a health center and a cafe.
Gregg Singer of 9th & 10th Street, LLC purchased the building in 1998 during a city auction.
"Our aim is to create a space where we provide the safety, security and health care that the parents want and the amenities and location that the students want," Singer said.
After Singer purchased the building, it remained unused for another 11 years.
"The building was vacant for over 10 years because the building was retroactively landmarked and the entire East Village down-zoned, which required us to recalibrate our plans," said Peter Schottenfels, associate of Risa Heller Communications.
Cooper Union, which is located on East Seventh Street, has already signed a 15-year lease for 196 beds as a housing option for their students. In a press release, Claire McCarthy, director of public affairs at Cooper Union, said buying beds in the University House will be cost-effective for the university.
"The agreement we have with the owner enables us to provide this opportunity for students to choose housing in the neighborhood without engaging in costly construction activities," McCarthy said. "Rates will be determined by the owner."
Schottenfels stated that housing will be available to students of all classifications as long as their school has signed the lease.
NYU will have no involvement with this new housing.
"For a range of reasons, including our understanding of the long history of the community wanting that space for a non-dorm use, we have no interest," said Philip Lentz, NYU's director of public affairs.
Sam Biederman, associate director of university communications for The New School, said it has no involvement in this new dorm, but will be opening a new student residence this coming August as part of their University Center project on 14th Street and Fifth Avenue.
A recent study from Greenwich Realty Advisors indicated that Manhattan dorms will fall short of 57,000 beds for New York City college students.
New York Institute of Technology 2010 graduate Sondema Tarr, who lived in a multi-university dorm in Brooklyn, said living in a dorm with non-NYIT students allowed her to meet many people from different walks of life.
"Overall, I think living in a dorm with people from different schools was great," Tarr said. "My school is known for science and technology mostly, [but] because of the dorm I lived in, I was able to meet people who were studying fashion merchandising, culinary arts, filmmaking and acting."
Steinhardt freshman Nabeela Lakhani said she thought living with students who attend the same school is a better idea.
"I think having interaction with other schools is important for networking, but I don't think living together would accomplish that," Lakhani said.
Tarr said that even though living with students from other colleges was great, it has a downside as well.
"Because there are hundreds of students from so many different schools, everyone tends to do their own thing more," she said. "There isn't really a common bond that ties everyone together. The school spirit or pride that a lot of schools have just was not present at mine, and I think the dorms have a lot to do with that."
A version of this article appeared in the Monday, April 29 print edition. Tanay Hudson is staff writer. Email her at [email protected]