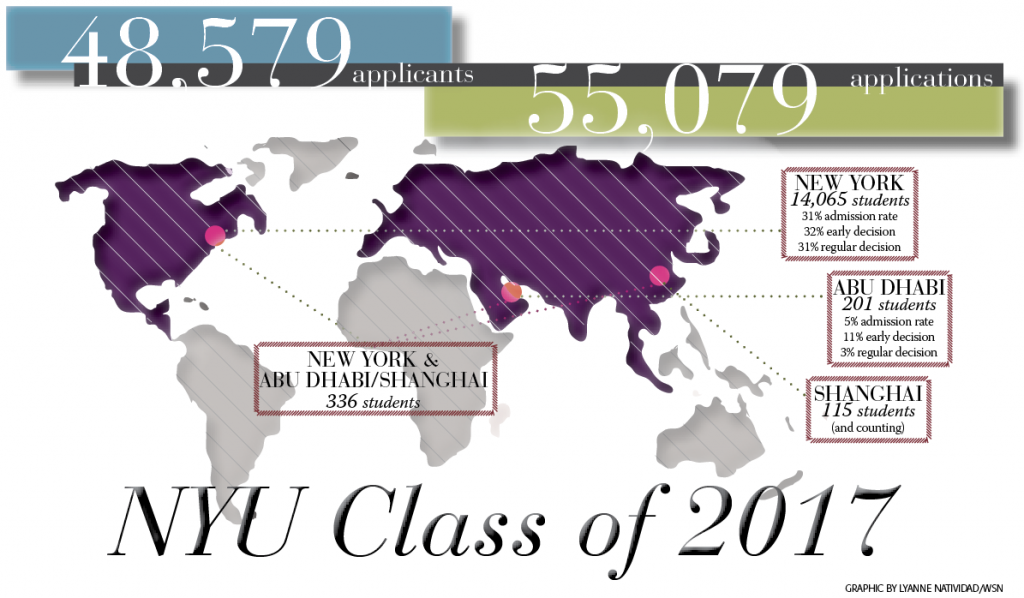 NYU has accepted around 30 percent of applicants to the class of 2017, according to preliminary admissions rate calculations provided by admissions officials.
As of April 15, the university has admitted around 14,700 students across all three campuses, said Shawn Abbott, assistant vice president of admissions.
While previous years' admissions rates include students admitted to both the university's New York and Abu Dhabi campuses, this admissions cycle marks the first time NYU has offered students admission to its third portal campus in Shanghai.
After seeing a 12 percent rise in applicants this year, this admissions cycle is NYU's sixth consecutive year of selecting students from a record-breaking number of applicants. Although there were a total of around 48,500 applicants to NYU, the university received around 55,000 applications. The higher figure accounts for applications from students who applied to multiple campuses.
However, admissions rates are calculated according to the number of applicants, 48,500, and not the total number of applications.
This admissions cycle saw one of NYU's most diverse applicant pools yet, but Abbott said the actual makeup of the class of 2017 is still uncertain.
"While it does appear that our freshman class will be the most ethnically and geographically diverse [class] we have had in recent NYU history, it is premature to make that claim until well after May 1," Abbott said.
New York
The university admitted around 31 percent of approximately 14,000 applicants exclusively to the New York City campus. This roughly represents around a 4 percent decrease from last year's approximate 35 percent admit rate.
Abbott said similar fluctuations are expected each year.
"The admit rate at NYU has varied between 30 and 35 percent for the last five years," he said.
There was only a 1 percent difference between Early Decision and Regular Decision admissions rates, with the Early Decision admissions rate coming in at 32 percent and the Regular Decision admissions rate coming in at 31 percent.
Abu Dhabi
The university accepted 4.7 percent of applicants, or around 200 applicants, exclusively to the Abu Dhabi campus. This represents about a 3 percent increase from last year.
Students who applied during the Early Decision cycles were more than three times as likely to be admitted, as Abu Dhabi admitted 11 percent of Early Decision I and II applicants while only three percent of Regular Decision applicants were offered admission.
The jump in admissions rate could be due in part to the additional paperwork required in this year's admissions process, Taylor said. Applicants were required to submit separate writing samples for each portal campus they applied to, which may have resulted in fewer students applying. In the past, applicants had to check a box indicating interest.
Josh Taylor, associate vice chancellor of public affairs and community relations for NYU Abu Dhabi, said the 2017 class for NYUAD will probably exceed the projected 150-seat class size.
"We are seeing strong interest from admitted students," Taylor said. "However, we will be able to accommodate all who elect to attend. It's a very good problem to have."
Despite the rise in the admissions rate this year, Abu Dhabi still ranks among the most selective universities in the world. In comparison, Ivy League schools such as Harvard University reported a 5.9 percent acceptance rate, and Yale University reported an acceptance rate of 6.8 percent.
Shanghai
Thus far, the university has admitted about 100 students to the NYU Shanghai campus, which is scheduled to open for its inaugural academic session this fall. However, because the Chinese Gao Kao, or college entrance exams, will not take place until this June, the admissions process for the newest NYU campus will not be complete until summer, according to NYU spokesperson John Beckman.
Beckman said the university expects to admit approximately 151 Chinese nationals to the Shanghai campus, while the remainder of students will be international students.
An ongoing admissions process 
There are a number of details that have yet to be factored into the admissions rates thus far.
In addition to students admitted exclusively to individual portal campuses in New York, Abu Dhabi and Shanghai, NYU also offered admission to multiple campuses for around 330 applicants to two of three campuses — either both New York and Abu Dhabi, or both New York and Shanghai. Abbott said the students admitted to both campuses have yet to be accounted for in preliminary admissions statistics.
Admitted students are expected to respond with their decision to accept or decline their admissions offers by May 1.
Furthermore, approximately 6,200 applicants were given the opportunity to be considered for the NYU wait list, which represents roughly 13 percent of the total applicant pool for the class of 2017.
In this admissions cycle, NYU offered three different application options for prospective students. Early Decision I applications were due on November 1, 2012, while Early Decision II and Regular Decision applications were due on January 1, 2013.
A version of this article appeared in the Monday, April 29 print edition. Hanqing Chen is web managing editor. Email her at [email protected]