MTA study may lead to different subway car designs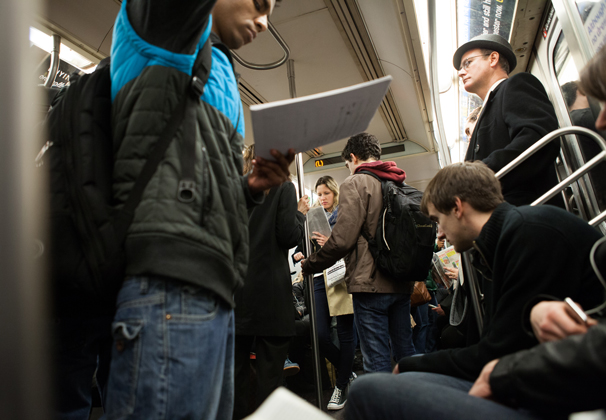 New Yorkers tend to prefer using the standing space in a subway car to being crowded on subway seats, according to a new study from the New York Transit Authority. The report analyzed rider usage of subway space and have recommended a number of new designs to accommodate these trends.
The report was conducted by Transit Authority researchers who observed seating patterns of subway passengers in over sixty subway cars from late February to early March 2012. Some of the data collection was conducting using railcar-mounted cameras.
"In all car types, New Yorkers overwhelmingly prefer sitting to standing," the report said. "At…[trains] over 70% [full] standing room is already being consumed in a significant way."
The report also commented on what kind of seats New York subway riders prefer using.
"New York customers have a clear preference for seats adjacent to doors … and disdain for bench spots between two other seats," the report also noted, "Standing customers strongly prefer to crowd the space between doors … and to hold onto vertical poles."
Melissa Marsh, a design expert and founder of Plactarc, a local space management company, is not surprised at all by New Yorkers' aversion to sitting on trains.
"Height and aspect of elevation are both practical and symbolic of power, one is at a tactical disadvantage if their view corridor is lower," she said. "The health benefits of standing versus sitting are increasingly well publicized, folks who are sitting at an office all day, may be consciously choosing to stand."
Marsh also added why New Yorkers in particular might be even more wary of sitting in trains.
"Given recent events and even just in post 9/11 New York life … the physical posture of standing is more of a prepared position, should someone need to depart quickly, if there is a threat," she said.
Ivy McCall, a GLS sophomore and regular subway user, agreed with some of the report's main findings.
"Unless I am tired, I probably avoid sitting next to anyone on the subway either…I'd honestly rather stand," she said.
The report proposed a number of potential new subway car designs that would reflect these use patterns and prevent as much crowding around doors and the creation of so many "undesirable middle seats."
One of these designs, would create airline-like seats at the ends of the train and a center with no seats at all.
"This…design offers a choice in seating layouts, allowing longer-distance passengers to gravitate towards airline seats at car ends, and short-distance riders to stand in the middle zone with no seats," the report explained.
Aaron Donovan, an MTA spokesman, said the MTA has not yet review the report's designs, as it is not an official MTA document.
Andrew Karpan is a deputy city/state editor. Email him at [email protected]