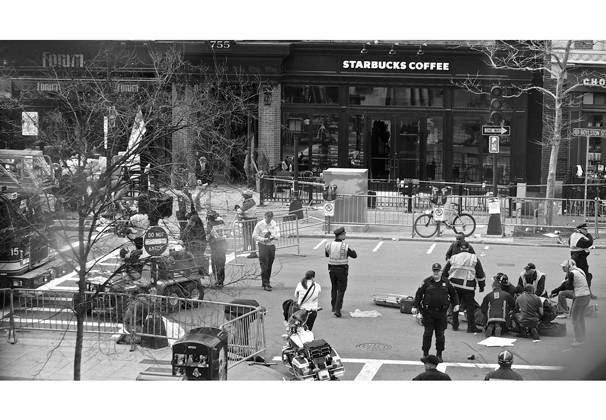 In a way, Boston has been through this before.
The two airplanes that hit both World Trade Center towers took off from Boston's Logan Airport. The hijackers stayed in Boston hotels, squatting until their time came. In the 12 1/2 years since those attacks, my hometown of Boston has been otherwise untouched by such drastic violence. But the whispers have yet to cease.
After last week's attacks, the whispers have turned into screams.
In the aftermath of the attacks, it became clear that this was going to be unlike anything Boston had ever seen before. During the manhunt for Chechen brothers Tamerlan and Dzhokhar Tsarnaev, the entire city retreated indoors, locked down and waited as Dzhokhar evaded capture until late Friday evening. As the story continues to unfold, the country is hungry to find out why they did this.
There are quite a few of us who have left Boston for various reasons. We couldn't run over to Massachusetts General Hospital to donate blood. We couldn't be there to support our families during lockdown hours. We couldn't commiserate with our community and we feel estranged. I write to paint a picture of what the Boston Marathon should have been, and, if I can, connect with my city while it mourns.
Last Monday was Patriots' Day, a holiday observed to commemorate the Battles of Lexington and Concord, battles which set the stage for the American Revolution. On Patriots' Day, Boston feels more like a village than a sprawling metropolis. Children are off from school, offices close, families gather downtown to watch the proud participants cross the finish line, doling out high fives and overflowing cups of water. Beach chairs and lemonade stands line Commonwealth Avenue, from Heartbreak Hill into the heart of the city. Cafes and restaurants fling their windows open to welcome guests, college students cluster around checkpoints to cheer the runners on, Boylston Street quakes under the weight of happy spectators sharing a beer and a laugh.
The Boston Marathon is a yearly ritual practiced with almost bacchic revelry. Last week's astonishing violence unhinged my city, and we in New York watched in horror as one of our proudest traditions dissolved into carnage and disarray. I never felt more like an ex-pat than I did on this year's Patriot's Day — I was stranded, and unable to experience the weight of the attack and its harrowing aftermath with the people of Boston.
Boston is historically territorial. We have our own ways of doing things, from baseball to beer and all those rickety T-stops in between. Our instinctive reaction to the marathon bombing will no doubt be staunch solidarity with our small city. As the Internet erupts with memes of the Green Monster and Neil Diamond plays on a constant loop on our radio stations, we will stand proudly in the face of violence. We ask that in the days to come, the nation follows suit and stands by us.
 A version of this article appeared in the Monday, April 22 print edition. Jessica Kasmer-Jacobs is a contributing columnist. Email her at [email protected] NYU will be holding a candlelight vigil for the victims of the Boston attacks on Monday night at 5 p.m. in the Kimmel Center for University Life.