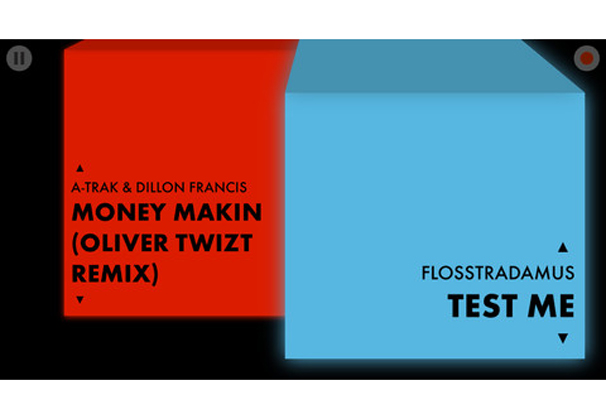 "If you can move, you can mix" is the tagline for Crossfader, a free disc jockey iPhone app that allows users to mix songs and to add sound effects simply by moving their bodies and tilting their phones.
Crossfader was launched on April 10 by web company DJZ, which showcases electronic dance music and engages aspiring DJs on a collaborative platform. The startup team began discussing the idea for the app last year. Their goal was to give all users, irrespective of their prior experience, the opportunity to be a DJ.
"We were given this challenge: Allow anyone to perform great sounding DJ sets, mashups and remixes, even with zero previous DJ experience," said CAS sophomore Kiren Srinivasan, the music curator and marketing spokesperson for the app.
Srinivisan works on the Crossfader team with CEO and Columbia graduate Seth Goldstein, product manager Andy Chimicles, head developer and Stanford University graduate Ilias Karim, head of audio and music composer Jake Lamante and graphics and animation designer Jonas Goldstein.
The name Crossfader was derived from the tools used to create the app. A crossfader is the part of a mixing board that DJs use to smoothly switch between two songs playing at once. True to its name, the app allows users to add effects to two songs at the same time. Crossfader also provides users with a library of tracks to choose from when creating their mixes, and it allows them to share their music creations using SoundCloud, an audio distribution app.
Crossfader initially only consisted of interactive tutorials, but the app has since grown to include other features.
"[It is] the result of exploration in immediacy and magic," Srinivasan said of the final product.
The more the team delved into the production process, Lamante said, the more they realized many people wanted to be DJs.
"Toward the end of development, we made this major conceptual U-turn and decided to focus [on] user experience," Lamante said. "We stripped away most of the other interface elements, until all we had was this giant crossfader."
Gallatin sophomore Forrest Durell said he downloaded the app because of its user-friendly nature.
"It's disarmingly simple," Durell said. "There's only a limited number of movements … tilt back and forth, shake, change sample, change sample volume. But the combinations of all these things makes the app interesting, fun and easy to use."
Since its release, the interactive DJ app has garnered the attention of many music professionals including music artist Snoop Dogg, who tweeted "This Crossfader App goes hard" and linked to the iTunes home page where the app has been featured.
The team said they hope the app will expand and become an alternative to established DJ music systems. Srinivasan also discussed the possibility of the app serving as a music preview device for DJ and electronic music fans to find new music.
"Ultimately, we see Crossfader becoming a whole new way for people to consume, discover, perform and interact with music," Srinivasan said.
A version of this article appeared in the Monday, April 22 print edition. Bhargavi Ganesh is a staff writer. Email her at [email protected]