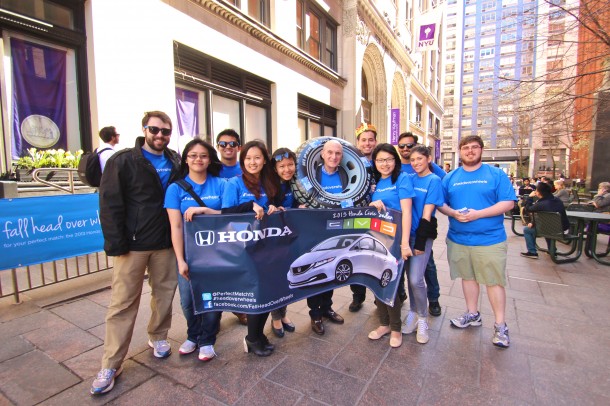 A group of NYU students chose Finding the Perfect Match as the theme for the 2013 Honda Civic.
The students, collectively known as the Washington Square Group, were asked to design an advertising campaign for the car back in February in an advertising management course with merchants council professor Jake Jacoby. Every year, Jacoby collaborates with edVenture Partners, a marketing education consultancy, to allow students to gain real-world experience of what it's like to work in advertising.
On Wednesday, April 17, the group kicked off its campaign in Schwartz Plaza with a parked 2013 Honda Civic.  When its campaign ends in late May, the group will send out more than 400 surveys to gauge student reaction. If NYU is one of the top three schools, the students will fly to Los Angeles to present their campaign to Honda.
"Because we're doing the Perfect Match campaign, we're highlighting the different features as individual personality traits," said Anthony Fernandez, a Gallatin sophomore and head of the communications department for the project.
The group was given a budget of $3,000 to create and implement an entire marketing and communications plan.
"We're targeting the general youth market, which is [ages] 18 to 30 years old, who live in New York City and are ideally affiliated with NYU," said Nicole Smith, a Gallatin junior, who works on public relations for the campaign. "We figured it would be kind of cheeky and fun to say 'Look, the new Honda Civic is your perfect match.'"
Dennis Katsnelson, a Stern junior, said the group used some of the car's features to represent the slogan.
"One example of [our campaign strategy] is using the rearview camera to say, 'Are you looking for a mate who will always have your back?' or, 'Do you want a partner who shares your taste in music? Because the Honda Civic has Pandora capabilities,'" Katsnelson said.
Back in February, representatives from Honda visited Jacoby's class to speak about Honda's expectations for the campaign.
"The students have definitely done a great job in coming up with a catchy slogan, and their campaign theme is very cohesive," Honda representative Lexie Fatianow said.
Jacoby is proud of his students and their growth since the beginning of the semester.
"They learned that it does not always go according to the textbook and sometimes it's slow and other times it's rush-rush-rush, and you got to be flexible," Jacoby said. "But they've got a pretty good experience in terms of what's involved."
Sanjana Kucheria is a staff writer. Email her at [email protected]