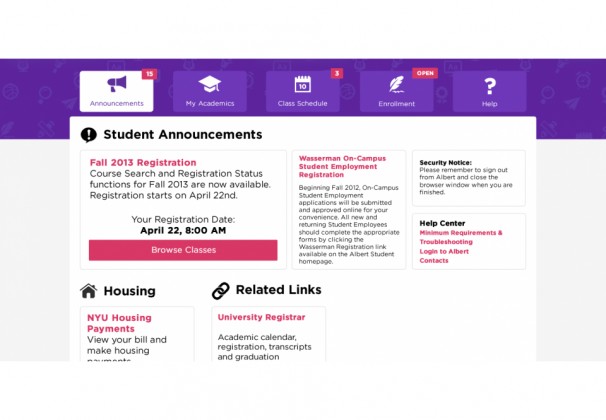 Albert, NYU's online database, will soon receive a facelift less than a year after its most recent redesign. CAS freshman Abhinay Ashutosh created a beta version for an Albert remodeling that may be implemented.
The beta version was presented to NYU President John Sexton last Wednesday at the Stern School of Business' Paulson Auditorium. Sexton was impressed by the designs and is looking for a way to use them, Ashutosh said.
Like many NYU students, Ashutosh was frustrated with the current  version, especially during class registration periods. He said the system is clunky, slow and outdated.
He was concerned with the amount of time it takes students to find the information they need and to register for the appropriate classes before they fill up.
In early April, Ashutosh heard from [email protected] and Internet Technology Advisory Board, two student-run clubs that ITS was looking for a different design.
"I [created] a design concept that I knew I would want to use myself," he said.
Ashutosh, who calls himself a "passionate designer, developer and entrepreneur," created the alternatives on his own but asked several friends to give their feedback.
Adam Alter, a Stern professor of marketing, praised the model's minimalistic look.
"I think it looks excellent — very clean and well-designed," Alter said.
CAS professor Efrain Azmitia, who frequently works with Albert for her classes, said the redesigned Albert site provides a user-friendly and efficient interface for selecting courses appropriate for majors and can also help with advisement.
CAS freshman Sarah Shin stated that even though appearance is not the most important component, the new Albert has a simple, attractive layout.
"If it makes registering for classes and putting classes in your shopping cart easier, with less clicks and a faster system overall, then I think it would really be great to change the current Albert design," Shin said.
The site, which will be divided into several parts accessible from the top of the page — announcement, class schedule, enrollment and other tabs — will provide easy direction for students using the system.
LSP freshman Jasmine Luo said Ashutosh's updated Albert is innovative, and the different sections are user-friendly.
"I think this is very helpful since right now everything's mixed up in one part in the student center," Luo said.
Luo also said the site is convenient because she could see her shopping cart directly.
"I really like this idea because right now when I pick my class I always want to recheck what I've already got," she said.
A version of this article appeared in the Wednesday, April 17 print edition. Su Sie Park is a staff writer. Email her at [email protected]