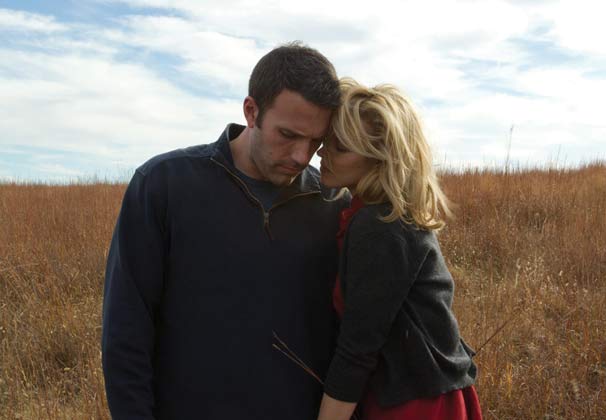 The stars of Terrence Malick's "To the Wonder" are quite accustomed to mainstream entertainment. Olga Kurylenko and Javier Bardem have both played characters in James Bond films, Rachel McAdams starred in a Nicholas Sparks adaptation and Ben Affleck's latest film won Best Picture at the Oscars.
Perhaps "Wonder" is fascinating because it is the most cinematically ambitious work associated with these actors to date. Some viewers may come to expect that filmic boldness in a Malick film by now, but "Wonder" is esoteric, even by the standards of Malick's filmography — this is about as far from streamlined narrative storytelling as film gets.
There is a story to be had in "Wonder." The basic gist is that Neil (Affleck) escapes a torrid relationship with Marina (Kurylenko) and then questions whether he's done the right thing when he begins another passionate relationship with Jane (McAdams). Neil's philosophical quest is paralleled by Father Quintana (Bardem), a priest undergoing a crisis of faith and living in the same Oklahoma town.
But watching "Wonder" for its narrative is pointless. In fact, "Wonder" is less of a narrative film than it is a tone poem, one that is both rich with emotionally fused voice-overs and engrossing in its difficulty. Much like the many forms of romance shown on screen, the voice-overs are transcendent, if not somewhat obvious in their emotionalism.
The voice-overs verbalize emotions that are internalized — feelings that would otherwise never leave the minds of the film's beautifully realized characters. They depict raw emotion, and Malick's direction, so complex in its style, helps to mine amazing performances — particularly a brief but noteworthy one from McAdams.
Malick's direction, radiant as always, is especially skillful in helping these voice-overs tell a melodramatic story in a few lines of dialogue. The images say everything the actors cannot — Marina gracefully twirls against a colorful sunset to show the pure ecstasy found in love. Jane appears in a red dress and is lost in a golden wheat field to suggest that she must hide her passion from Neil, for she knows that he does not love her equally. The aesthetic is so meticulously rendered that it even lends the film a musical, rhapsodic feel rarely found on screen.
"To the Wonder" is all about Malick rather than the actors, and for a personal filmic essay that supplies answers for many theoretical questions about love, that is perfectly acceptable. It's a philosophical journey more than anything else, and resultantly, it should be a tough experience. "To the Wonder" isn't simply entertainment. This is pure art, and this is passionate filmmaking. This is what love feels like.
A version of this article appeared in the Wednesday, April 10 print edition. Alex Greenberger is entertainment editor. Email him at [email protected].