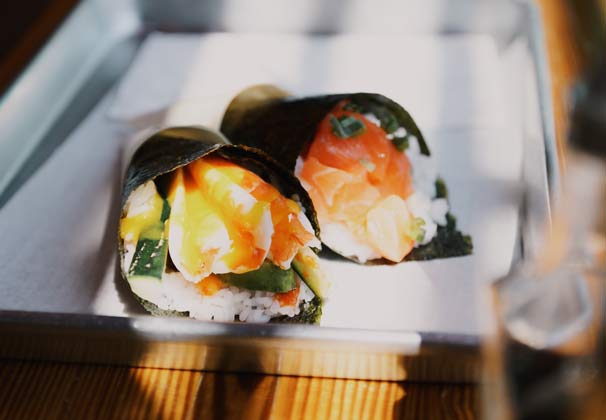 Iconic Hand Rolls, an East Village temaki shop, will begin its hand roll hunt April 15.
The restaurent will place 50 Iconic logo stickers within a five-block radius of the store between Third and 13th streets and Third Avenue and Avenue B.
Clues on the whereabouts of the stickers will be posted on Facebook, Twitter and Instagram. Those who find the stickers can use them to redeem a free temaki roll, a cone-shaped and hand-rolled sushi, from the store.
Founded by Stern alumnus David Ravvin, Iconic Hand Rolls recently hosted a question and answer session at the Stern Entrepreneurs Exchange,  a club that helps students, alumni and affiliates explore aspects of entrepreneurship and early-stage investing.
Before Ravvin arrived at NYU, he spent a month traveling in Brazil, where he was inspired by temaki shops. Instead of eating pizza after going to a bar, Ravvin remembered joining Brazilians in sit-down shops and eating a waffle cone-sized temaki.
"I saw this idea there, and I thought it was so cool," Ravvin said. "There was nothing like [a temaki shop] in the United States. It was a way of serving sushi that I thought was so creative and fun. So when I came to NYU, I wrote a business plan to bring this here for one of my classes at Stern."
Within the apple-green inter-ior of the restaurant, the ordering station offers an array of sushi fillings and sides for customized hand rolls.
"Their rolls are like Asian tacos," said Stern junior Romel Gutierrez.
Customers who order the lunch combo ($9) will get the salmon or spicy salmon roll ($5.50), with a roasted cauliflo-wer or miso soup ($3) and a black mango or mint lime green tea. The salmon temaki is dressed in Iconic's aioli made from fresh Greek yogurt, and it has a sweet taste with a firm texture.
For vegan and vegetarian options, customers can pair a veggie avocado temaki with a kale salad.
"A very healthy and low-calorie lunch," Ravvin said. "It's hard to get fresh food like this."
One of the core values at Iconic Hand Rolls is sustainable sushi. As a result, ingredients like Scottish salmon, Atlantic deep-sea red crab and Marine and Stewardship Council-certified skipjack tuna are all meticulously sourced.
"A lot of people come in and ask for eel. We hate to disappoint people, but we have to stick to our values," Ravvin said. "We haven't been able to find a sustainable source for eel. It can be overfished, and the methods used to catch it can be unsafe."
Iconic offers a selection of delectable rolls, including the new smoked salmon hand roll and the spicy mango shrimp hand roll, which is made of sweet iki jime shrimp wrapped with mango puree, pickled cucumber and avocado.
Iconic Hand Rolls is located at 135 First Ave.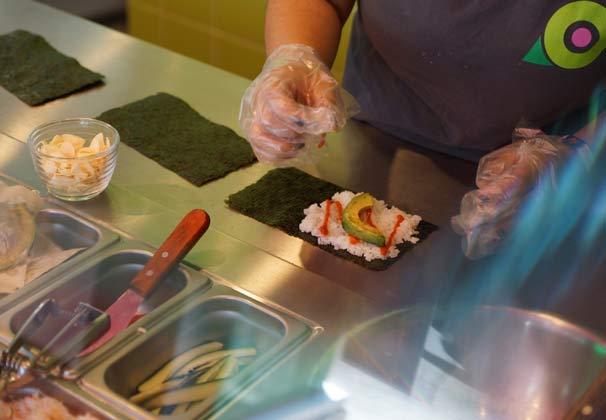 A version of this article appeared in the Wednesday, April 10 print edition. Lily Chin is a contributing writer. Email her at [email protected].