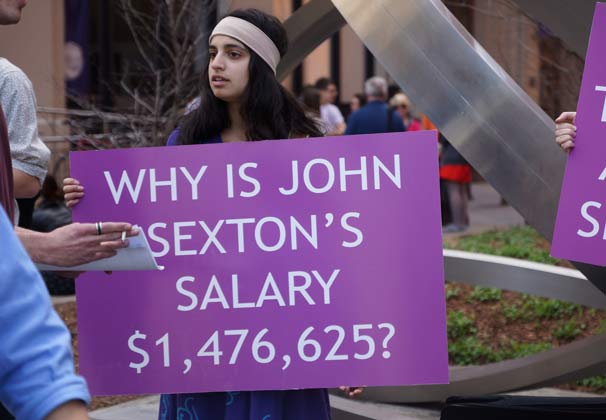 Student opposition to NYU 2031, the plan to expand the university by as much as six million square feet, flared yesterday as the student group's first public protest stopped pedestrian traffic outside Bobst Library.
With signs and flyers in hand, around a dozen members of the student-run group NYU Students and Alumni Against the Sexton Plan expressed concerns about the plan's size, cost and possible impacts on tuition.
Protest organizer and CAS sophomore Kristina Mayman said that students need to take more action if they have problems with the administration.
"I've been seeing how the faculty is getting involved and doing a great job fighting NYU President John Sexton's leadership, and I was just surprised that there wasn't student involvement already," Mayman said. "This issue is a student problem, and we should be out in the streets to do something about it."
Signs used during the protest brought attention to financial issues and concerns about the university's leadership.
Students and Alumni Against the Sexton Plan has received some guidance and support from NYU faculty, including members of the Faculty Against the Sexton Plan group.
CAS professor Adam Becker said students should voice their opinions, and that successfully fighting the administration entails collective effort.
"This isn't something where we have a vote and then Sexton loses the vote, he steps down and everything's great," Becker said. "It's a long-term project, and it will require faculty, it will require students and, with regards to 2031, it has so
far required the community members as well."
Mayman hopes the protest clearly establishes a student voice on NYU 2031.
"This is our attempt to introduce ourselves, and hopefully people will hear the message and join in," she said.
SASP handed out flyers stating their claims, such as the amount of real estate NYU gave to four employees and the amount of money adjunct professors, who constitute approximately 50 to 70 percent of NYU's faculty, typically earn.
However, the NYU administration maintains that the university has enough money to support endeavors like the expansion plan.
"It should be understood that this project has a sound financial plan, is well within the university's financial means and is critical to maintaining NYU's extraordinary academic trajectory and fulfilling our academic and educational missions in the years to come," said NYU spokesman John Beckman.
Omar Clark, an NYU-Poly second-year graduate student who protested, said there are problems with the administration aside from the expansion.
"It's not really only about the expansion. It's about NYU's different ventures in respect to our divestment from fossil fuels in Abu Dhabi and countries like that," he said. "We just need a whole system change in respect to NYU schools."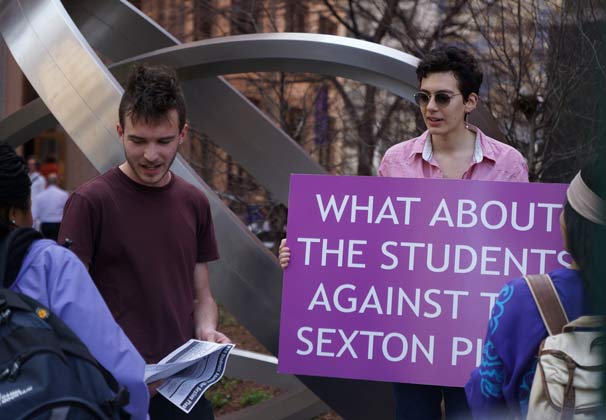 A version of this article appeared in the Wednesday, April 10 print edition. Additional reporting by Billy Richling. Fay Lin and Billy Richling are staff writers. Email them at [email protected].