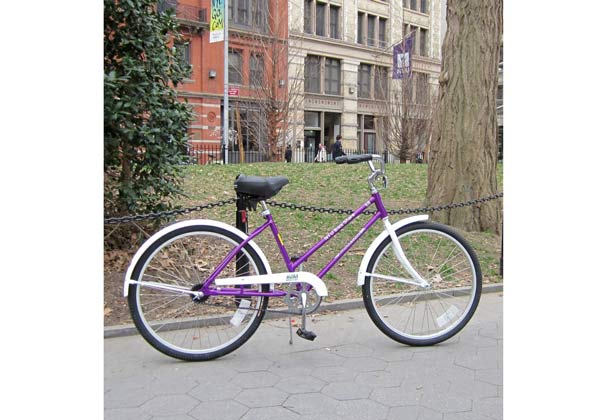 The New York City Department of Transportation is set to launch Citi Bike, the nation's largest bike-share program, in May. The initiative will place 5,500 bikes at 293 docking stations throughout Manhattan and Brooklyn.
The launch comes despite damage to bikes and related hardware caused by Hurricane Sandy last fall.
"The Department of Transportation has worked around the clock to restore vital transportation links following the storm and that includes putting Citi Bike on the road to recovery," Transportation Commissioner Janette Sadik-Khan said in a press release.
The bike-share program is named after its official sponsor, Citibank. The system will cost $95 for an annual membership, $25 for a seven-day pass and $9.95 for a 24-hour pass. A special $5 one-day membership will be available for the first few weeks after its launch. Private sponsorship, combined with user fees, means that no taxpayer dollars will be used to operate the system.
Sarah Kaufman, a professor of planning at NYU's Rudin Center for Transportation Policy and Management, said a bike-share program would be a good addition to the city's transportation system. She cited the Vélib program in Paris and Capital Bikeshare in Washington, D.C., as examples of successful programs in other cities.
"It contributes to our ease and efficiency of travel, the health of bike riders and the public health from reduced car emissions," Kaufman said. "It's an exciting program for New York City."
However, CAS freshman and Washington, D.C. resident Nick Kirsch said he was not satisfied with his hometown's program.
"Once you hit about 12 hours on the bike, it becomes cheaper to just buy a bike," Kirsch said. "So it's only feasible for tourists who are staying for under a week."
The Citi Bike program will cost more than Washington, D.C.'s Capital Bikeshare, which costs $75 for an annual membership and $25 for a 30-day pass. To compare, NYU's own bike-share program operates 75 bikes at 13 docking stations and is free for students and faculty.
Chris Roderick, a CAS freshman, said he thought the citywide program was still a good idea.
"With a bike, I can skip paying for taxis or the metro, and I'm reducing my carbon footprint," he said. "I love riding my bike because I see the city in a unique way."
Some New Yorkers are less enthusiastic. In January, a caller to New York City Mayor Michael Bloomberg's weekly radio show on WOR 710 said cyclists who do not obey traffic laws are "menace[s] to pedestrians." Others are concerned about how much space docking locations will take.
Kaufman said the program was designed in the fairest possible way.
"Although some locations may not be ideal, the Department of Transportation has done a good job of choosing potential high-use locations," Kaufman said.
A version of this article appeared in the Wednesday, April 10 Billy Richling is a staff writer. Email him at [email protected]