Songwriter's Portrait: Craig Finn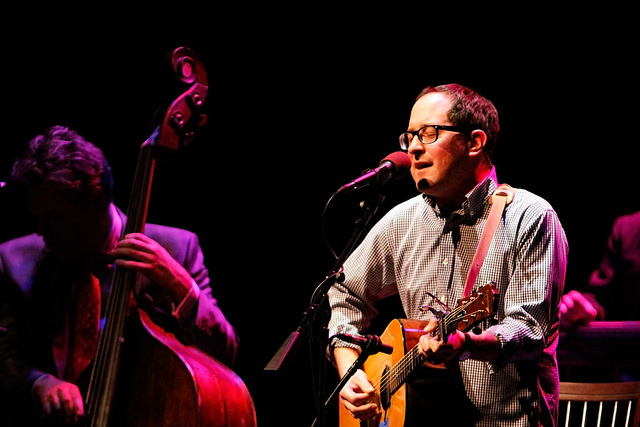 Craig Finn, best known as the frontman for the Hold Steady, doesn't really sing. Rather, he
talks, yells and spits his way through songs about getting high, the Mississippi River and getting high by the Mississippi River. Luckily, these songs contain lyrics that sound straight out of James Joyce's "Ulysses." This installment of our Songwriter's Portrait column takes a look at Finn's five best lines.
"You came into the ER/Drinking gin from a jam jar"
— "Stevie Nix"
Apart from being a great image, this line from "Stevie Nix," which doesn't mention the Fleetwood Mac singer but does name-drop Rod Stewart, includes an amazing use of alliteration. Jam gin should definitely be a thing.
"They started kissing when the nurses took off their IVs/It was kind of sexy/But it was kind of creepy"
— "Chillout Tent"
Young love — is there any better way to describe it than kind of sexy but kind of creepy? With this line, Finn not only proves himself as the maestro of hospital imagery but also a master of describing teenage relationships.
"I guess I heard about original sin/I heard the dude blamed the chick/I heard the chick blamed the snake/I heard they were naked when they got busted/And I heard things ain't been the same since"
— "Cattle and the Creeping Things"
The Bible offers some of the most vivid images in literature, but, for the most part, Christian rock is incredibly boring. Take note, Scott Stapp — this is how you make Christian rock interesting. Less "take me higher," more talking snakes.
"In bar light/She looked all right/In daylight/She looked desperate"
— "Sequestered in Memphis"
One of Finn's greatest talents is his ability to take complex social constructs and boil them down into one clear thought. Case in point: this fantastic line from "Sequestered in Memphis," which perfectly summarizes the despondency and despair of the late-night bar scene.
"The theme of this party is the industrial age/And you came in dressed like a train wreck"
— "The Weekenders"
If any incoming freshmen are reading this, then your search for a yearbook quote is over. Once you finished 11th grade, you probably never imagined you'd be thinking about the industrial age again. However, here is a line that not only mentions that oh-so-important period in American history but also contains a metaphor that is almost too good to be true. Both your English teacher and your social studies teacher will be very impressed.
A version of  this article appeared in the Wednesday, April 10 print edition. Josh Johnson is arts editor. Email him at [email protected].