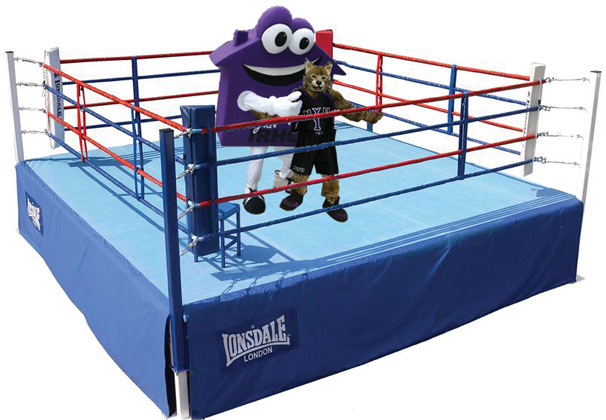 In an attempt to resolve the long-standing feud between Inter-Residence Hall Council representative Housie Maguire and the sports team mascot BobCat, NYU Athletics Department director Christopher Bledsoe sponsored a triathlon to put the two to the test. This simple competition to decide mascot dominance, which took place on Saturday, took a turn for the worse, ending in a storm of broken beer bottles and drunken rage later that night.
The friendly triathlon pit the two mascots in a classical run, bike and swim test of athleticism.
"Housie was at an obvious disadvantage," said Weinstein residence hall director Josh Hartman. "This was obviously set up for BobCat to win. Houses aren't made for physical competition."
After BobCat beat Maguire by more than an hour, Maguire demanded that another event be added to shift the momentum his way — a boxing match. Maguire defeated BobCat one minute into the first round, using his sheer weight to pin BobCat. Despite this victory, Maguire did not rack up enough points overall to win. BobCat was handed a trophy as he shook hands with Bledsoe and Maguire. The two mascots went home, seemingly at a truce.
Tisch sophomore Hannah Horvath recalls a shouting match between BobCat and Macguire before last call at the Bitter End, a popular bar on Bleecker Street. After boasting of his victory over Maguire, BobCat reportedly bought a round of shots for everyone but his rival, a sign of disrespect. "Forget you, dude. I'm way more popular than you've ever been," Maguire retorted, referring to his online popularity. "Check out all my Facebook likes and my tweets. Just Google me."
Moments later a brawl broke out between the two mascots.
"Maguire broke his bottle of Yuengling over the bar and tried to attack Bobcat, but some of his friends held him back," Horvath said.
Other witnesses said Bobcat approached Maguire and began insulting him. Maguire then threw a punch that knocked out Bobcat, who was subsequently carried out by his friends.
Bledsoe called it "a dark day for the NYU community indeed."
A version of this article appeared in the Monday, April 1 print edition. Ron Swanson is a disgruntled government employee. Email him at [email protected]