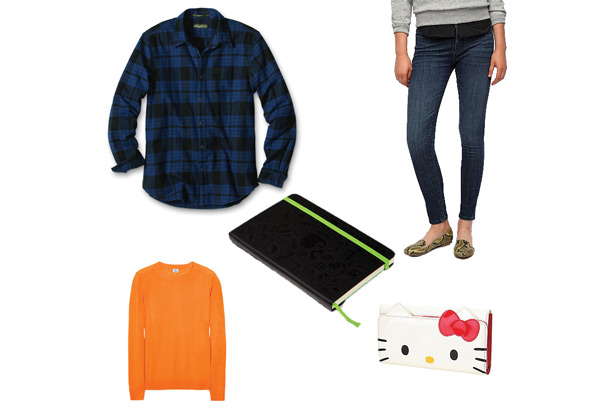 via polyvore.com | urbanoutfitters.com | gizmodo.com | kaboodle.com | bellevuecollection.com
CAS senior Joan Torch is like any NYU student: she eats mediocre dining hall food, waits impatiently for the elevators at the Silver Center and writes her essays the night before the deadline. But when it comes to her sense of style, she is far from normal. As she peels off her cream-colored Gap cardigan, the unique fashionista shares the special pieces in her closet.
Torch first boasts of her burnt orange cable knit sweater.
"I absolutely love this one," she said. "I got it at a Black Friday sale at Old Navy. It goes so well with my blue skinny jeans from Urban Outfitters. Urban is probably where I shop the most now."
Torch is most certainly a risk-taker — she can often be seen wearing a big, cozy sweater over a flannel shirt.
Torch also spilled the contents of her unique, eye-catching bag, a patterned tote from Forever 21. She frequently carries cherry-flavored chapstick, along with a black Moleskine notebook she uses as a planner. A set of black, blue and red BIC pens, keys to her apartment, her NYU ID and a Hello Kitty wallet from Target all describe the fantastic, innovative style of this psychology major.
In addition to being an important trend-setter, Torch is an active member of the NYU community.
"I frequently post on the NYU Secrets Facebook page," Torch said. "I'm on it several times a day, and send in submissions almost weekly. It makes me feel good that I can contribute to the community of our university."
Be on the lookout for this eccentric, stylish individual. She will continue to mesmerize our campus this spring — a season Torch plans to rock in her red Converse sneakers and unconventional floral print dress from H&M.
A version of this article appeared in the Monday, April 1 print edition. Bay Kennish was switched at birth. Email her at [email protected]