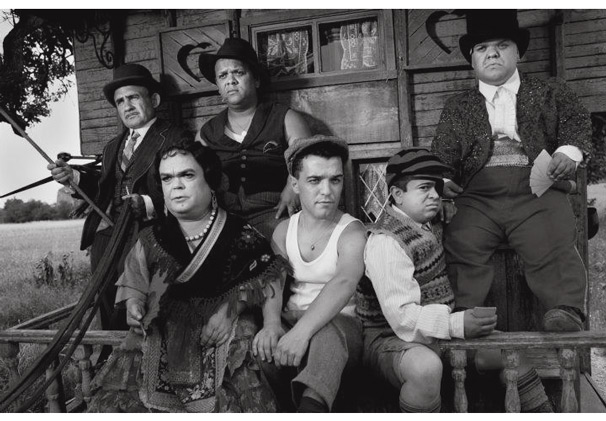 Bullfighting, murder and dancing. "Blancanieves," directed and written by Pablo Berger, is an adaptation of the classic Snow White fairy tale. But this film is not the story you grew up with — it's not a fairy tale at all.
Our Snow White is a girl named Carmen, and the film takes place in Seville during the 1920s. Carmen — Macarena García — is sent to live with her father, Antonio — Daniel Giménez Cacho — and his new wife, Encarna (Maribel Verdú), after her grandmother's passing. Encarna is your typical evil stepmother, but her ill will is also directed at her husband who, after a bullfighting accident, is left completely paralyzed.
Once she's had enough of him, Encarna kills Antonio and sends her lover to kill Carmen only for her to be saved by one of six bullfighting dwarves named Rafita (Sergio Dorado). After jumping in the ring to save Jesusín, another one of the dwarves, Carmen goes on to become a famous bullfighter while Encarna searches with the infamous poisoned apple in hand.
One of the most interesting aspects of "Blancanieves" is its lack of audio. The silent foreign film lacks distracting subtitles. The montage and rhythmic editing are especially effective, most notably in the scenes where Carmen and her grandmother are dancing after her communion. The quick tempo and dance movements are combined with a series of shots until all is stopped by her grandmother's heart attack.
The differences between "Blancanieves" and the original classic are truly refreshing. Instead of a handsome prince arriving to save a damsel and riding off into the sunset, Snow's love interest is the dwarf Rafita, the same man who saves her after her stepmother tries to have her killed.
Though traditionally known for the singing dwarves and the true love's kiss that awaken Snow from her deep sleep, "Blancanieves" evokes a far more realistic friendship between Snow and these men.
The film's gruesome, twisted ending attempts to show that life is not a fairy tale, and there is no magical happy ending. Ultimately, it is worth seeing this silent homage to the classic tale — especially for those who are tired of perfect love stories with happy endings.
A version of this article appeared in the Wednesday March 27 print edition. Katherine Tejada is a contributing writer. Email her at [email protected].