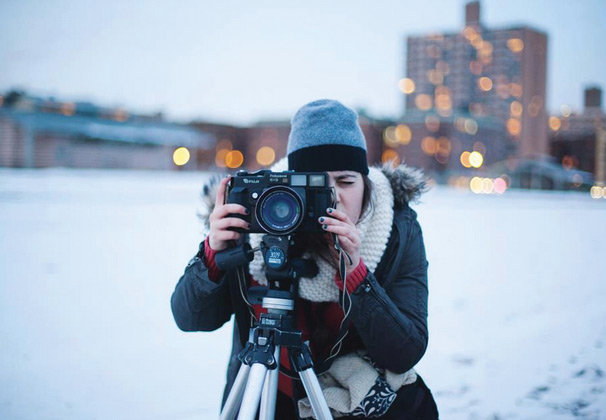 Like many other passionate, dedicated students at NYU, freshman Jessica Bernstein is going above and beyond what is expected of her as a photography and imaging major at the Tisch School of the Arts. Besides her regular assignments, she maintains a simple and striking online blog, Cat Mint.
Bernstein started the project one year ago on Tumblr within the comforts of her home in Georgia.
Cat Mint is an outlet for Bernstein to post her personal photographs and blossoming artistic and aesthetic ideas. Her selections range from eclectic individuals to extreme candid shots, many of them featuring children.
When asked where the clever name for this blog came from, Bernstein said, "Catmint is a little purple flower that is essentially catnip. I have the depth of a kiddie pool and named my blog after a flower. Choo choo, here comes the cliché."
Jokes aside, viewing Bernstein's work is a treat for fellow classmates who stumble upon this simple yet exciting website. While Bernstein provides no text or captions to accompany the photographs, the images speak for themselves, conjuring stories that take viewers on a unique and emotional journey.
"[Bernstein's] work constitutes the phrase 'a picture is worth a thousand words,'" said GLS freshman Meghan Simon, "The photos always cause me to question things and think outside of the box."
While many well-known blogs today contain some sort of written advice, opinion or information, Cat Mint exists for pure visual enjoyment and reflection. This tool of basic entertainment allows young adults and their parents alike to take a break from their busy schedules and mounds of homework to simply indulge in pure art without analyzing it.
Bernstein maintains a Flickr account on top of her blog, and does both effortlessly without taking up too much time on a daily basis.
What may appear to be a fascinating masterpiece to onlookers is a pastime that keeps Bernstein occupied during her free time and connected to friends and classmates that share the same passions for personal expression and creative photography.
Bernstein said blogging should be straightforward and simple.
"My blog is just a place that I can post my photographs for myself and the occasional viewer. No deep meaning or any life-changing moments here," Bernstein said.
A version of this article was published in the Monday, March 25 print edition. Kimberly Schu is a staff writer. Email her at [email protected]