William Hewitt provided positive perspective on environmental policies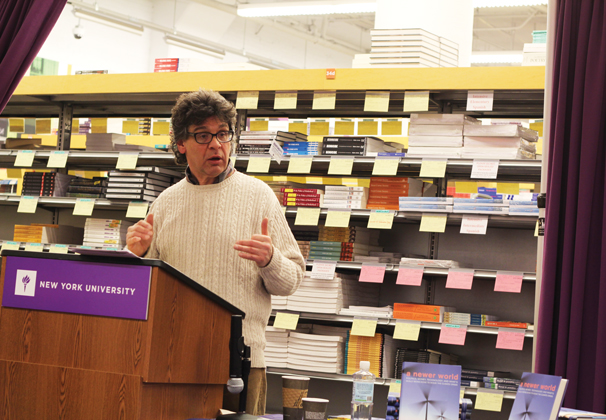 The intersection of policy and climate change led the conversation at the NYU Bookstore's author reading yesterday. Adjunct professor William Hewitt, who teaches climate change, sustainability and energy, introduced his book "A Newer World: Politics, Money, Technology, and What's Really Being Done to Solve the Climate Crisis."
Working on the book for two and a half years before "A Newer World" hit the shelves in December, Hewitt has dealt with international relations and global affairs for almost 30 years.
The book is mostly about how we can help improve the climate crisis and promote sustainability.
Hewitt was inspired to write a book when he realized that the problems of controlling climate change were not due to the lack of technology in renewable energy, green building or sustainable culture, but rather by not having enough policy regulation supporting the technology.
"We need money for technology. We need finance … from the private sector to help to move that technology forward," Hewitt said.
The bookstore usually tries to open events for books published in the last six months. Community Relations Manager at the NYU Bookstore Yael Yisraeli said that Hewitt's book is important to the community because it is about the environment, which is highly significant for everyone.
"The environment is the air we breathe, the water we drink, it is everything around us. We cannot ignore it," Yisraeli said. "When we destroy the environment, it is like destroying ourselves. We need to have a good relationship with the environment, too."
CAS junior Kyle Viola said that he was pleased to hear a new and encouraging view instead of a negative perspective about climate change. Viola is used to hearing about global warming and not about the change that can be brought by activists.
"It is a very optimistic topic. It influences me to take an optimistic perspective too."
Throughout the discussion, Hewitt discussed the general problem of climate change, why we are experiencing climate change and the impacts of these effects.
"I teach international relations, global affairs, and so I want to let other people know that this is an issue being looked at. It's being addressed," Hewitt said.

A version of this article appeared in the Tuesday, March 5 print edition. Su Sie Park is a contributing writer. Email her at [email protected]