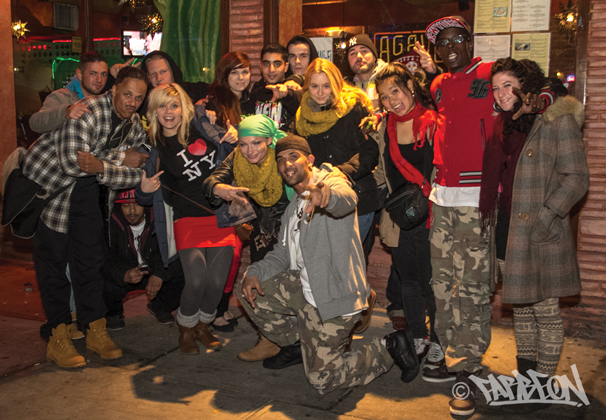 New York City youth may have a chance to study hip-hop in Barcelona, Spain and New Orleans, La. this year through a growing East Village-based travel non-profit.
The Hip Hop Re:Education Project was founded in 2005, and has been sending youth to Berlin, Germany since 2010. Through an initiative called Travel Agency of Change, the program hopes to raise $12,000 to fund trips to Barcelona and New Orleans this year. The program is using a website called Indiegogo for its fundraiser, which will end on March 20. At the time of publication, the project has reached a quarter of its goal, with 17 days left to raise funds.
The opportunities are open to those between 18 and 24 years old from all five boroughs. Fabian "Farbeon" Saucedo, the founder of the Hip Hop Re:Education Project, said many of these of these potential students are either unemployed and are not attending school.
"They are marginalized and, for whatever reason, traditional institutions aren't reaching them," he said.
Saucedo said hip-hop has the potential to become a binding force for disadvantaged children.
"Hip-hop has been given a bad rep because it has been co-opted by media and record labels to sell products," he explained. "We want to get back to the roots of hip-hop as a community-building force. It was originally used to fight drugs and violence, not to promote them."
CultureHub is a partner of Travel Agency of Change. It works with local and global communities to promote artistic collaboration. Billy Clark, the international program director of CultureHub, said he was excited to be able to connect youth from different areas, especially those who would not otherwise have the opportunity.
"The main goal is to use hip-hop as a vehicle for cultural understanding and to empower young people through arts cross-pollinating with culture," Clark said.
Although European countries are not necessarily associated with hip-hop, Saucedo said the flourishing hip-hop culture in these European cities would be especially interesting for students to explore.
"People used to say other countries are copying what America was doing by adopting hip-hop culture, and maybe in the '80s that was true," said Saucedo. "But currently, young German rappers are listening to German pioneers. Now we're being inspired by German and Spanish rap."
Another initiative by Hip Hop Re:Education Project involves developing curricula in public schools and creating dynamic, yet simple learning methods such as working with a middle school in the Bronx to get seventh graders to write rap songs about their science curriculum.
NYU Steinhardt music education sophomore Nsangi Kariamu said the Hip Hop Re:Education Project's trips would be an exciting opportunity for students.
"We all think of hip-hop as just an American music genre, so it would be interesting to see if European hip-hop is any different," Kariamu said. "It would be fascinating to get a different perspective on hip-hop music."
A version of this article appeared in the Monday, March 4 print edition. Bojosi Morule is a contributing writer. Email her at [email protected]