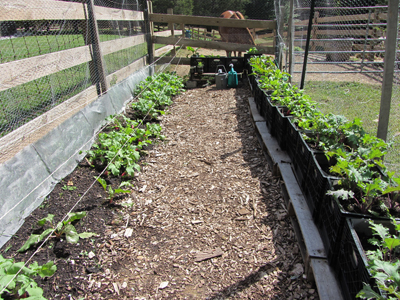 It is concrete change, literally. For NYU students from the university club Farm to Live, a project of Mahwah Environmental Volunteers Organization green space is always preferable to the blacktop parking lot.
A project initiated last April with $1,000 of funding from the NYU Reynolds Changemaker Challenge and some gardening gear, Farm to Live now maintains three farms throughout New Jersey and hopes to increase the number to seven by the summer.
The main idea propelling the group is sustainable agriculture, specifically in suburban areas. Through growing and maintaining gardens organically, Farm to Live hopes to make healthy food accessible to communities that do not have a large focus on sustainable agriculture.
Farm to Live crews will monitor the farms and teach different groups of people about sustainable farming over the summer. But for Eric Fuchs-Stengel, executive director and founder of MEVO, NYU was a crucial factor in his decision to invest his time in Farm To Live.
"[Being] surrounded by a vibrant community of environmentalists, foodies and activists at NYU really educated me on the detrimental impact the conventional food system has on our earth," said Fuchs.
Other than growing additional farms this year, Farm to Live will also improve upon their existing farms. At Pony Power Therapies, an organization on their current farm that uses horse riding as therapy, Farm to Live is set to add bees, chickens, an orchard, a rain water catchment system, worm composting and solar panels on the property.
But more than concrete change, Farm to Live also focuses on education. Last year, the group used the gardens for a summer camp that provided a farming curriculum for children in hospice care, veterans and children of veterans, among others. After the success of last year's camp, the Farm to Live staff was invited back this summer and asked to start several new farms. Farm to Live also tries to involve more students.
"[Students] are idealists. We see the world not for what it is, but for what it could be. Adults are far more realistic, and it limits their ability to put their entire hearts into what they do," said Emma Spett, a MEVO and Farm to Live Volunteer Coordinator.
Christopher Schlottmann, a professor in the Environmental Studies Program at CAS, believes that using this service in New York City could also be beneficial.
"NYC needs more green space for quality space and for environmental services and food security," Schlottmann said.
Tatiana Baez is university editor. Email her at [email protected]