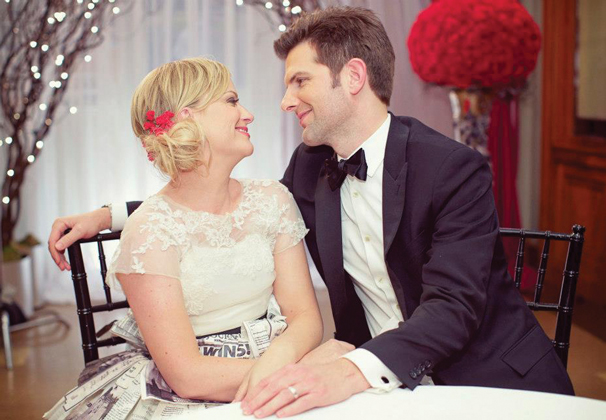 As one of the brightest and funniest shows on television, "Parks and Recreation" is at the top of its game. Last week saw a spectacular episode in which Leslie and Ben's relationship reached a climax with their dream wedding. Show star Amy Poehler said, "It's chemistry, baby. You can't fight it."
In a conference call, Poehler, co-star Adam Scott and co-creator Mike Schur spoke on a variety of topics, including what's next for the show. The last few episodes of season five will introduce new guest stars. Jean-Ralphio Saperstein (Ben Schwartz) returns after being put on trial for counterfeiting euros, and this time he's bringing along his sister Mona Lisa, played by comedian Jenny Slate. Schur also revealed that Patton Oswalt will make an appearance on the show.
Schur discussed the directions Chris Pratt's character, Andy Dwyer, will be taking. After being rejected from the police academy, Andy will work for Ben Wyatt's (Scott) new charity organization.
"It taps into something deep inside him that he would never have thought to explore, [which] makes perfect sense when you understand it," Schur said. "It's something that he just has a knack for because of his big, goofy, open heart and his love of helping people."
When asked about the show's future, Poehler spoke enthusiastically about what could be done in a possible sixth season of the show.
"There's a lot of really good stuff that the writers did an amazing job of laying out that I know we have thoughts and dreams for season six," she said. "And even saying 'season six' is so exciting."
Schur elaborated on Poehler's sentiments about the show's future.
"Amy and I are writing the [season] finale together right now." Schur said. "A part of the outline is to tell the story of the end of this year, her first year as city councilor, and wrap it up in a certain way and then also suggest a lot of interesting and fun things that would happen next year."
"It's about both the now and the future at all times, especially on the show when there's so many storylines and so many characters who warrant getting served with good stories," he added.
Even though "Parks" has yet to be renewed, the show still has a pretty good chance of sticking around for another season of hilarious hijinks in Pawnee. While Schur is developing a new show at Fox with fellow "Parks" producer Dan Goor, his love for "Parks and Recreation" was evident throughout the entire conversation.
"There's nothing more fun than coming up with ideas for these characters," Schur said. "I would do it forever if I could."
A version of this article appeared in the Feb. 28 print edition. Jeremy Pick is a contributing writer. Email him at [email protected]