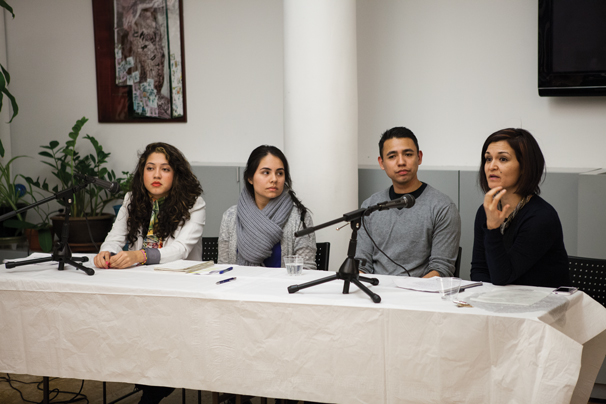 Last night, the Dream Team at NYU hosted a panel discussion on education for undocumented youth in America. Moderated by professor of Latino Studies Luisa Heredia, the panel featured three undocumented students.
President of the Dream Team and CAS junior Taylor Digby said the purpose of the event was to raise awareness about the issues faced by today's undocumented youth.
"There are a lot of people at NYU who don't know about undocumented students," said Digby. "We wanted to let people talk to them."
Panelists Melissa Garcia Velez, Dominique Hernandez and Ivan Rosales discussed their struggles to secure a higher education while dealing with their undocumented status.
Financial aid sparked heated debate during the panel because most scholarships require a social security number.
Velez, a member of Youth Leadership Council and a student at Lehman University, said she considered moving back to Colombia after high school due to limited financial aid options. She emphasized that undocumented individuals could positively impact the nation once they are given legal status.
"I'm trying to contribute to society, but [I'm not able] to contribute what I want because I lack certain digits," she said.
Students also stressed that being undocumented affects all aspects of daily life such being able to drive legally and maintaining personal relationships.
The panel also discussed the efforts of the YLC to pass the New York Development, Relief, and Education for Alien Minors Act, which would provide equal access to higher education tuition assistance programs to all New Yorkers regardless of immigration status.
Although New York instituted deferred action for childhood arrivals – a policy that prevents deportation and authorizes work status for eligible undocumented youth – the panelists said these actions are not enough.
"It does not create a path to citizenship or other permanent form of status," said Alina Das, co-director of the Immigrant Rights Clinic at NYU School of Law and a professor of clinical law at NYU, in reference to the federal Dream Act, which has yet to pass.
Spencer Migotsky, a CAS junior who attended the event, said that he has many friends who are attempting to immigrate to the United States.
"These are people just like me or you, so why shouldn't they have the same rights?" Migotsky asked.
A version of this article appeared in the Wednesday, Feb. 20 print edition. Kevin Burns is a deputy university editor. Contact him at [email protected]