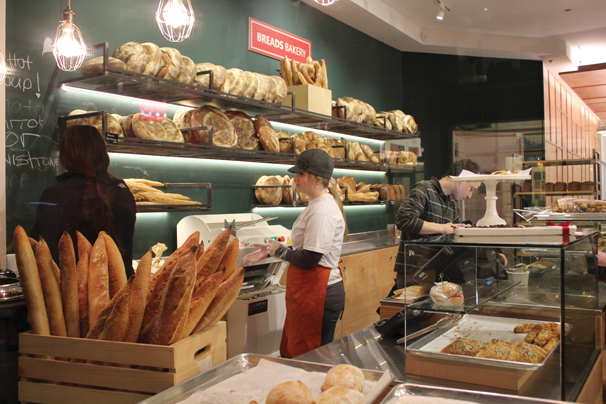 Just steps away from Union Square, the newly opened and aptly named Breads Bakery invites customers to warm up with freshly baked breads and pastries.
Uri Scheft, owner of the popular Lehamim Bakery in Tel Aviv, Israel, opened Breads Bakery, his first American outpost, on Jan. 30. He was born in Israel but grew up in Denmark, and he translates the fusion of his roots into baked offerings at his new establishment. Breads offers several traditional Jewish treats, such as chocolate babka and rugelach, as well as artisanal breads made with Scandinavian rye.
Many of the items at Breads are reasonably priced and attractive for a student budget. Little chocolate rugelach are in abundance, priced at $1.50 each. Paired with Breads' $3 cappuccino, they make for the perfect afternoon treat. For those who prefer savory pastries, Breads offers highly addictive cheese straws (five for $9), a perfect blend of Gouda cheese and flaky pastry that will literally melt in your mouth. Equally delectable is the mini Mediterranean quiche ($2.50), a tiny savory pie filled with feta cheese, fresh roasted tomatoes and sunflower seeds. Breads also offers a soup of the day and a variety of sandwic-hes, such as smoked salmon, goat cheese and beet, and tuna salad.
One of Breads' best products is babka ($9.95), a sweet yeast cake available with either chocolate or raisins. Breads, in an effort to create a welcoming environment, offers samples of their products throughout the day.
Most of the products offered at Breads are similar to those sold at Lehamim in Tel Aviv, but Sharon Kazes, a co-manager of Breads, explained that some of the recipes had to be altered for different tastes in the United States.
"A good recipe in another country might not work here," he said. Rugelach and babka are staples in the Tel Aviv bakery, and he hoped that they would be attractive to the large Jewish population of New York City.
According to Kazes, the concept of the bakery is freshness. Behind the espresso bar, Breads boasts a large baking facility that is uniquely open to customer viewing. This open baking area, complete with racks of rising bread dough and giant mixers, is a testament to the freshness of the products offered at the bakery.
CAS freshman Hannah Weinstock had mixed feelings about the environment.
"I feel a bit like I'm in a warehouse," she said. "But I enjoyed the cappuccino. It's cheaper than Starbucks'."
The open environment may not be the best for studying, but it is definitely a perfect place for meeting friends and grabbing a snack.
After all, as Kazes said, one of the many philosophies of Breads is to create an environment in which you feel like you are "visiting your friend in their living room."
Breads Bakery is located at 18 E. 16th St. It is open from 7 a.m. to 7 p.m.  Monday through Friday and from 8 a.m. to 7 p.m. on Saturday and Sunday.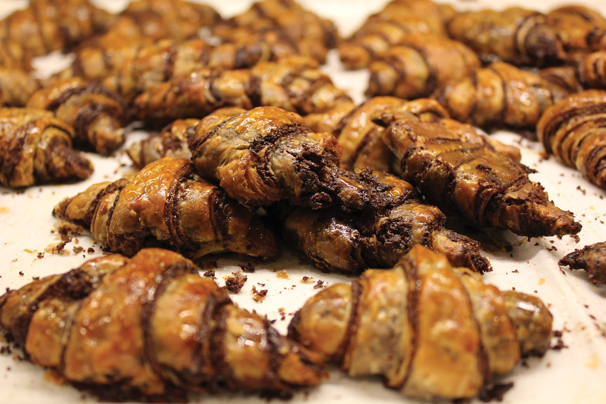 A version of this article appeared in the Wednesday, Feb. 13 print edition. Caitlin Schnack is a contributing writer. Email her at [email protected]