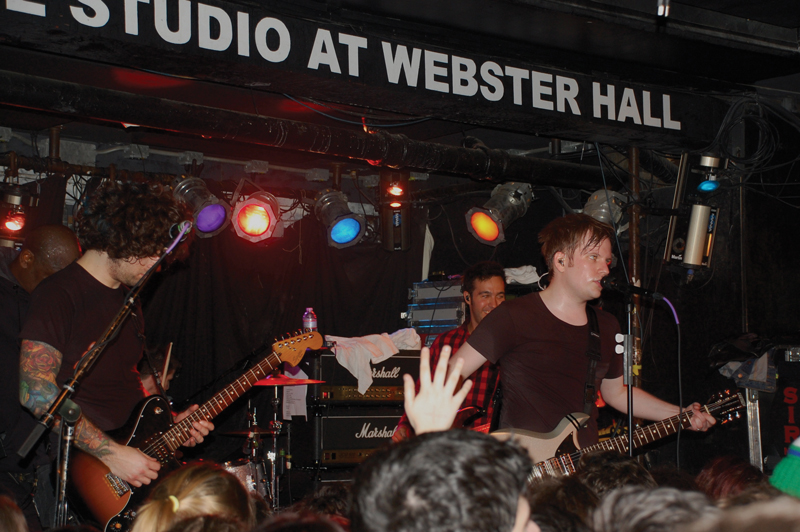 The angsty teenager in all of us was unleashed on Tuesday when Fall Out Boy officially ended their four-year hiatus with a show at the Studio at Webster Hall. News spread rapidly online when the beloved band posted its first single "My Songs Know What You Did in the Dark (Light Em Up)" from their upcoming studio album "Save Rock and Roll," and fans were ecstatic to hear about the band's highly anticipated reunion.
The audience prepared for an evening of nostalgia as the band presented a dynamic setlist featuring their favorite tracks from albums "Take This to Your Grave," "From Under the Cork Tree," "Infinity on High" and "Folie a Deux." The energy in the venue made the night feel like 2005 yet again, before "Sugar We're Going Down" went platinum and Fall Out Boy became a household name.
Once the last few people filed into the studio, the show began with "Thriller," Fall Out Boy's ode to their fans. The opener was followed by a rapid-fire set of fan favorites, including "This Ain't a Scene, It's An Arms Race," a cover of Michael Jackson's "Beat It," "Dance, Dance" and the highly appreciated B-side "Lake Effect Kid."
The banter between Pete Wentz and Patrick Stump in between songs was jovial and quite a change from previous shows in which Wentz served as the designated leader. With a solo project now under his belt, Stump may be trying to redefine himself as the band's new frontman.
The 90-minute setlist was both volatile and engaging. Fans clearly connected with the songs — the entire post-adolescent audience sang along with every word. One of the show's standout tracks was the band's aforementioned new single, which has a heavily produced pop resonance and highlights Patrick Stump's unique, soulful vocals.
Through their renewed efforts, Fall Out Boy hopes to revive today's dying rock scene, but it remains to be seen if these pop-rockers can compete with the rising popularity of electronic dance music. Later this month, the band will head to Europe before their spring tour starts. For now, an impromptu show at the Studio helped whet the appetite of New York City's Fall Out Boy fanatics.
Breezy Smoak is a contributing writer. Email her at [email protected]