For high school students across the country, College Board's Advanced Placement courses and tests give them a head start when they enter college, earning them credits and many times exempting them from certain classes.
But schools like Dartmouth College have recently decided that they will no longer transfer AP exam scores into credits for graduation. Starting with the Class of 2018, Dartmouth students will only be able to use their scores to place out of introductory classes.
The change in policy comes after an experiment conducted by the school's psychology department revealed that 90 percent of students who scored a 5 on the AP psychology exam failed a placement test modeled after the final exam of Introduction to Psychology. The study also found that students who chose to take the course after failing the placement exam did not perform significantly better than peers who did not take AP Psychology or scored lower on the AP exam.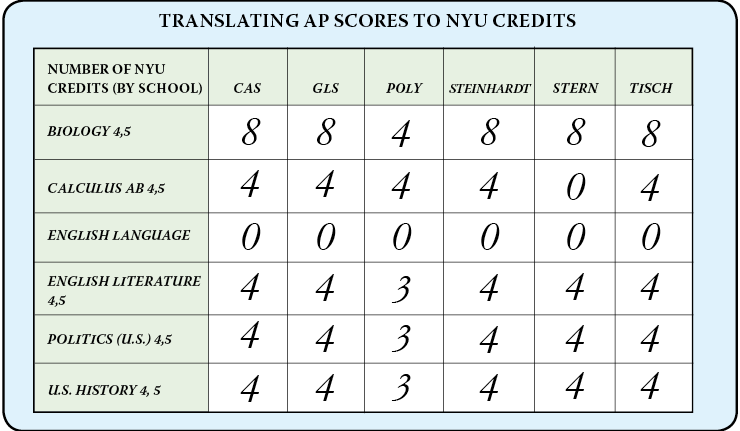 NYU currently accepts some AP scores of 4 or 5 for credits towards graduation, with specific policies depending on the department.
Shawn Abbott, assistant vice president of NYU Admissions, said the rigor of AP classes should not be undermined. However, arguing from a different direction, he says the lack of complete availability of all AP courses to every high school means not all students come from equal backgrounds.
"I have to wonder if Dartmouth's decision is a more equitable policy for a university where not everyone is coming to the table with the same advantages," Abbott said.
Similar concerns about allowing students to place out of certain courses with their
AP credits are cropping up in some departments. NYU chemistry professor John Halpin suggests that AP classes taken in high school may cover similar content but lack the true pressures of the college experience. He says that students who skip the first level of chemistry may have trouble adjusting to the high standards without an introductory course to ease the transition from high school to college.
Former AP Biology student and CAS freshman Sarah Reed agrees.
"AP Biology and Principles of Biology have very similar lectures, but Principles of Biology requires much more comprehension and synthesis and less memorization," she said.
Abbott supports the use of AP test scores as a guide for placement, but he reiterates that Dartmouth may have the right idea.
"After all, it is called the Advanced Placement program, not the Advanced Credit program," he said.
A version of this article appeared in the Feb. 6 print edition. Fay Lin is a contributing writer. Email her at [email protected]