On Friday afternoon, dozens of students, faculty and alumni met in a quiet spot in Washington Square Park to honor NYU's Timekeeper, John Votta.
To any passersby, the place might not have had any significance, but it was on this corner of Washington Square East and Washington Place where Votta stood.
Wearing watches on both arms, Votta voluntarily patrolled the corner for years, directing traffic for students and counting down the minutes before the next class. Beloved by the NYU community, Votta was featured in an article by The New York Times and a student-made documentary. Last month, Votta passed away from natural causes at the age of 70.
As the news spread throughout the NYU community, many individuals expressed sadness at the passing of NYU's unofficial guardian. Because of the overwhelming response from community members, the Student Senators Council created an event for students to come together to honor Votta's legacy one month after his passing.
"We received over 30 emails within the 24 hours after his passing," said Student Senators Council chair Malina Webb. "This is a chance for students to gather and remember a man who, for many, became an integral part of the academic experience."
At 2 p.m. last Friday, representatives from the Student Senators Council opened the informal ceremony with brief remarks.
"We were really impressed by the outpouring of student and alumni response," Webb said. "I think that's something to be said of the underlying community at NYU."
At the memorial, students also took turns telling stories and remembering what Votta meant for them and the community.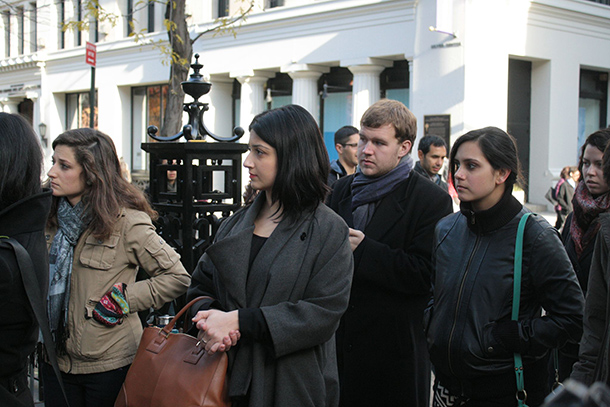 "I remember reading about Johnny and thinking he was an official NYU employee, but then I found out he wasn't," said Tisch sophomore Emily Lu. "Still, he was always here, rain or shine, no matter what. I just wanted to say thank you to Johnny."
CAS junior Aaron Frankel said it was great to hear Votta yell out the time on his way to class.
"I was always rushing by and never got [a chance] to say thank you," Frankel said.
Marc Wais, vice president for global student affairs, also attended the memorial.
"I think students understand now how much he cared for the NYU community," Wais said.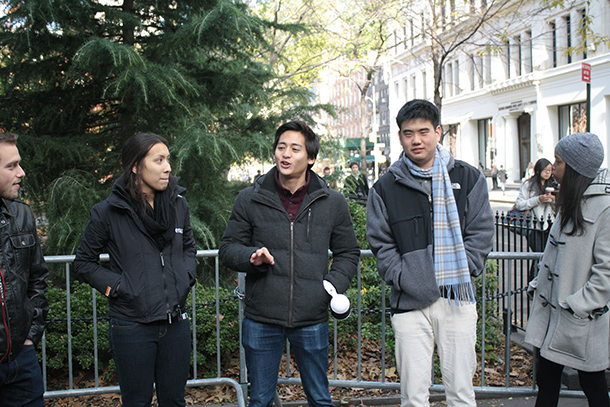 Attendees stood in a circle and held a brief moment of silence for Votta. As the meeting neared its conclusion, Webb announced that the Student Senators Council planned to place a clock in the Kimmel Center for University Life as a way to commemorate Votta's contribution to the university community.
"We had a dialogue about where to put the clock," Webb said. "We decided we wanted to honor him sooner rather than later, so we chose the seventh floor of Kimmel, which is the center for club life."
Webb said because NYU does not have jurisdiction over Washington Square Park, it would take much longer to place a memorial on the spot in the park where Votta actually stood.
"I hope the clock will remind current and future students of the sincere goodwill of Votta," Wais said.
A version of this article appeared in the Monday, Nov. 19 print edition. Peter Slattery is a contributing writer. Email him at [email protected]