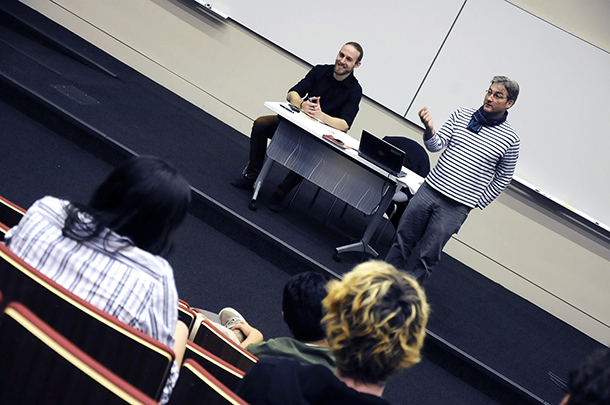 Two weeks ago, Tisch sophomore Francisco Sanchez had to evacuate his apartment on East 10th street. Even though Sanchez and other residents in New York City and the Tri-State Area have moved back into their abodes, many still have questions regarding how preparations leading up to Hurricane Sandy and the political and social aftermath have been handled.
"Now, more often than ever, climate disasters and events relating to the weather are becoming more frequent," Sanchez said. "I want to understand the system and the patterns that have caused this to happen."
Sanchez, along with over 30 other students from NYU and Pace University, attended an event hosted by NYU Socialists, titled "Hurricane Sandy, Climate Change, and Capitalism: How the 1% Conjure Monster Storms," on Wednesday night to begin to find the answers to similar questions. Chris Williams, who led the discussion, is an adjunct professor in the department of Chemistry and Physical Science at Pace University and the author of "Ecology and Socialism: Solutions to Capitalist Ecological Crisis."
"In large part, the current environmental crisis has a social cause under the system that we live under, namely capitalism," Williams said. "Ultimately this is bigger than the fossil fuel industry, but about the whole system. Capitalism cannot be made sustainable."
Williams pointed to the failures of corporations and all levels of governments in preparing for the consequences of climate change.
"There have been multiple reports by the city in recent years, but those plans need to be accelerated greatly and expanded," Williams said.
"Some of the investment that [Consolidated Edison] and the [Metropolitan Transportation Authority] should have and could have done wasn't because instead they spent that money on profitable and short-term projects."
In the days following Hurricane Sandy, millions of people had to live without electricity and hot water, including thousands of residents in downtown Manhattan, because of an explosion at the ConEd plant on East 13th street. Subways and tunnels, such as the Battery Tunnel and the L and G trains, suffered structural damage and were closed for more than a week. Thousands of households in the outer boroughs of New York City, New Jersey and Long Island are still without electricity, water and heat.
"The voluntary efforts of people and activists in Occupy Sandy have been phenomenal," Williams said. "It contrasts sharply with the inadequate preparation and response to the storm by the government, which can't even manage to get the required personnel and equipment to the other end of Long Island."
Putting this all in the broader context of climate change, Williams also offered some startling numbers.
For instance, the temperature in New York City has increased by two and a half degrees Celsius in the past century, and the sea level on the East Coast is rising three to four times faster than the global rate. In a report last year, the International Energy Agency estimated that, at the current rate, the global temperature will reach catastrophic levels in only five years. Williams estimates that 97.5 percent of waste comes from commercial and industrial resources, and the U.S. military is currently the largest single polluter in the world.
"We're very much on the edge of a 'carbon cliff' of maintaining a stable biosphere," Williams said.
Student attendees were alarmed by the discussion.
"I wonder what can be done to change these things because I think we are at a point in which it'd be difficult to make a huge change," said Nathaly Herrera, a sophomore at Pace University who is taking Williams' Environmental Science class.
Herrera commutes from Brooklyn, where she lost power for 10 hours and did not have cable for a week. Herrera also works at Abercrombie & Fitch at South Street Seaport, which has been closed for two weeks.
Despite bleak numbers, Williams still has hope but admits fixing the environment will take a lot of work to change current systems and institutions.
"This is about organizing and demanding change," Williams said.
A version of this article of this article appeared in the Thursday, Nov. 15 print edition. Daniel Hinton is an assistant managing editor. Email him at [email protected]