Home away from homelessness: Students flock to Kimmel
After yesterday's email announced the mandatory evacuation of seven residence halls to Kimmel Center by 3 p.m. today, students looking to stake their claims early are slowly filling up the floors throughout the building. But instead of the expected brawls for power outlets and couches, groups of students have cordoned off respective corners. Many others have already survived the first night.
"We packed up our laptops and blankets and pillows and pajamas," Tisch junior Lisa Rifkind told me yesterday night as she brushed her teeth in the 5th floor bathroom. "Making the best of the situation, so we're watching Mad Men and eating snacks. It's kind of like camping."
According to Elaine Fludgate, the evening operations coordinator for Kimmel Center, over 200 students spent Tuesday night on one of the nine floors. And though today's deadline is expected to bring in an unknown hundreds more, she says mutual coexistence has been a common theme.
"The thing that strikes me is that [students] are just so grateful. I mean, they're grateful for hot food and place to sleep, and that we have a staff here. It's not easy, they're sleeping on the floor. But I appreciate their goodwill," says Fludgate.
But surviving is always in need of a few creative ideas. In the rooms, hallways, and even stairwells, students have created makeshift refuges around power outlets. In the most far-fetched nooks, computers are plugged into daisy chains of power strips and extension cords. Activities run the gamut of TV shows, card games, board games, and even a full setup of mahjong.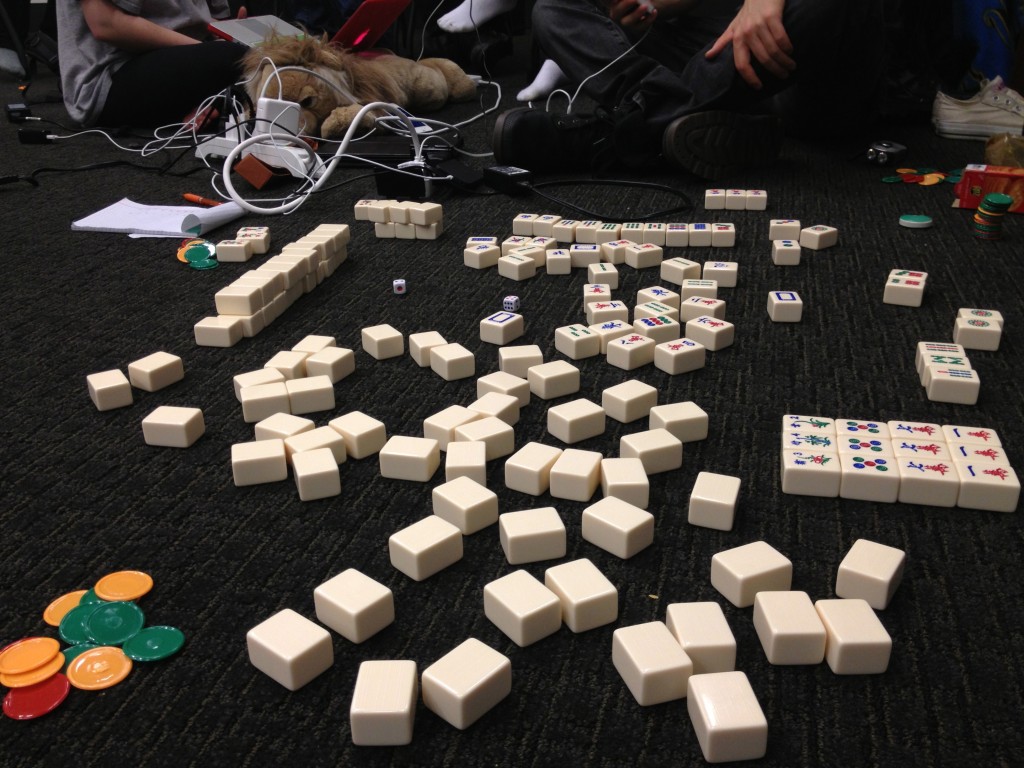 And besides a mysterious pool of acidic-smelling liquid, no other major dips into wasteland have occurred.
To prepare for the influx of students, the Kimmel Center staff are making minor rearrangements to the building. Heavy furniture is being replaced with lighter, simpler chairs and tables so that students have more flexibility in improvising their bunks. Sixth floor practice rooms are being unlocked for students to play music. The dining hall will be open from 8 to 10 a.m., noon to 3 p.m. and 5 to 8 p.m. each day. CBS cleaning staff will be continuously making rounds. And movies and other activities will be available in room 914.
"Kimmel will most likely be a home for most students, so that's how we're preparing," said Fludgate.
Of course, college student participation in any experiment will lead to a bit of chaos. Occasional fire alarms have interrupted the night, and the Marimba ringtones from multiple iPhones synchronized at 7:00 a.m. But for students like Grace Chapman, a Steinhardt sophomore, the conditions haven't dampened anyone's spirits.
"We're all in the same boat. We're all in this together."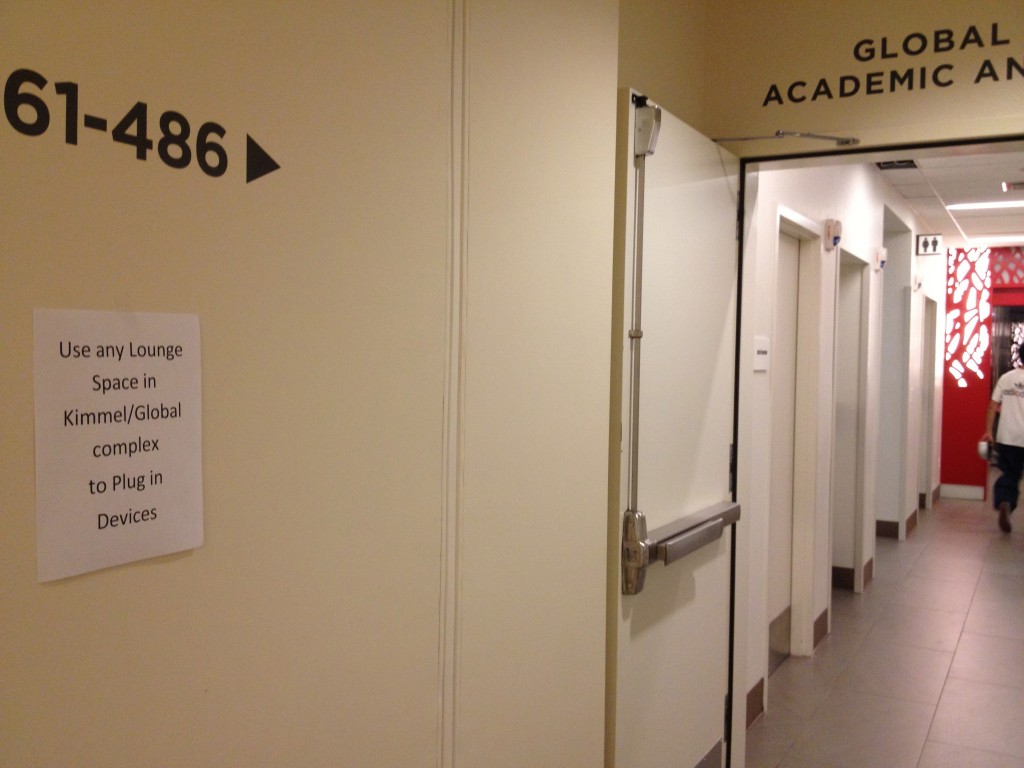 I'll also be collecting a list of tips here from students and administrators, so make sure to check back often.
To Bring: 
– Bring a sleeping bag or air mattress if you have one.
– Power strips. Although many creative students have even found outlets on the outside perimeter of the building.
– Water bottle
– All chargers.
– Extra blankets or jackets. Some rooms get cold.
Tips: 
– From Fludgate: The Grand Hall on the 5th floor, and the Rosenthal Pavilion on the 10th floor are perfect for sleeping. Use the chairs to slide together a bed.
– Students on the 8th floor are using cushions to fashion beds. If you get there in time, there might be a few left.
– Phones next to the elevators are available for students to make security calls, commentary, or just say hello.
– There are no hot showers in Kimmel, so be prepared to take a trek to Palladium for a bath.
Amy Zhang is web managing editor. Email her at [email protected]