New York City may not be the best city in the nation.
In its annual America's Favorite Cities survey, Travel + Leisure Magazine named New York City the dirtiest, rudest and loudest of 35 cities in the United States.
The survey, released in the magazine's September 2012 issue, polled more than 50,000 readers online, who cited bad odor and excessive garbage as their main reasons for the poor ratings. In last year's survey, New York was ranked fifth dirtiest.
In its 2011 Annual Department Report, the Department of Sanitation reported its citywide "acceptably clean street rating" was at 94.5 percent.
"50.5 million tourists, the most to any city destination in the U.S., visited last year and saw for themselves that the city is cleaner than ever," the Department of Sanitation said in an official statement. "[It] sounds like the people in this survey haven't been here in a long while."
Manhattan resident Donald Abrams, 54, sided with the Department and said that with garbage cans on nearly every street corner, he has seen an improvement in the city's cleanliness.
"Having lived in Manhattan for more than 20 years, I can attest unequivocally that it's not only much cleaner, but that it's actually clean," Abrams said. "The streets are clean, the subways are clean and Times Square, which was once a disaster, is a squeaky clean tourist magnet."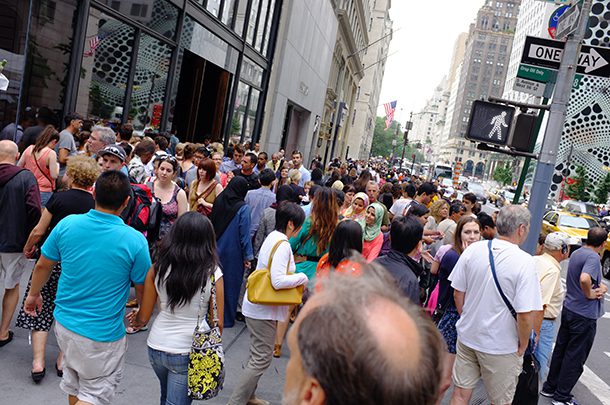 However, according to many city residents, the city needs to take more action to change the rankings.
"There needs to be more frequent garbage pickups and more cans," said Queens resident Felicia Varlese, 50. "Making it illegal to eat in the subway would help."
New York New York Tours president Daniel Leiter said the ratings would not greatly affect his business.
"People see New York as a dirty city, but they're still drawn to it," Leiter said. "New York is a dirty, smelly, crowded capital of the world, but you come here to experience the excitement and energy that the city has to offer."
But LSP freshman Jeremy Levick said he is not surprised with the results.
"New York City is so densely populated," Levick said. "When you put so many people in such a small space, they're bound to have shortened tempers and act out."
Brian Fritz, a 32-year-old Manhattan resident, came to his city's defense and said reputation trumps reality in this situation.
"If visitors would get out of the tourist areas and more into the neighborhoods, I believe they would witness the sense of community that exists throughout New York City," Fritz said.
The city was also ranked first in the magazine's survey for performance art, diversity, style and luxury shopping. Many agreed the city's positive aspects outweighed its negatives.
"What's a little noise, dirt and lapsed manners when weighed against all the cultural and artistic treasures we have?" said Serena Richard, 40, of Manhattan.
Billy Richling is a contributing writer. Email him at [email protected]