New Yorkers display exhibit of Diana Cameras, New York City
It's the year 2038: People don't know what cameras are and a museum chronicles their history. The museum is an upside down Diana F+ lomography camera and the visitors are minuscule and plastic. Architectural elements include glimmering glass towers made of shattered car windows from Bushwick. The museum is built atop a cement brick from Bond Street. Brush from Fire Island serves as shrubbery. The museum towers over its visitors, dauntingly close to the edge of a cliff.
This replica stands among other Diana F+ clones and photographs taken with Diana F+ cameras at the Lomography Gallery Store, part of the exhibition "Diana Hearts New York." The exhibit celebrates both New York and the Diana, a plastic camera first made in the 1960s and discontinued in the '70s. Northeast Territory manager and curator Jeff Moore said this exhibition was created to allow New York City artists to explore the Diana F+ in various ways.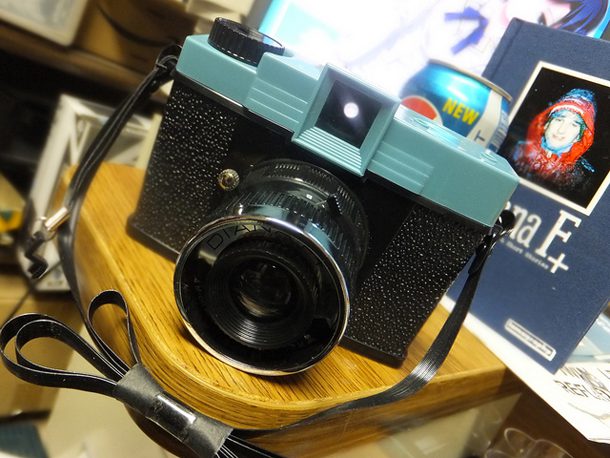 "They were given no parameters, none of the artists," Moore said. "You could do whatever you want, whatever you're inspired by when you have the Diana in your hands."
A total of eight New Yorkers participated in the project, including Time Out New York photo editor Jolie Ruben, fashion designer Kyle Brincefield of Studmuffin NYC, DJ Colby B, and artist and author Slava Motugin. Three artists made recreations of the Diana F+, each reflecting their own style. Four took photographs and one submitted both a photo and clone.
Moore selected the eight participants because he thought they would each bring a different voice to the project. Each clone and photograph reflects New York and depicts the Diana, but in an entirely different way.
"I love people who aren't afraid of being the center of attention," Brincefield said.
Brincefield's clone reflects this mentality. By covering the surface in thick, silver spikes and studs and attaching a double silver and blue chain shoulder strap, his Diana F+ resembles a purse more than a camera.
Ruben submitted a photograph of her boyfriend surfing in South Hampton and aimed to make the image aesthetically pleasing but not cliché. For Ruben, using the Diana F+ creates an anticipation that cannot be achieved through digital and non-plastic cameras.
"The highlight is … the idea that you don't really know how the Diana photo is going to come out," Ruben said. "Some are going to be super faded or washed out, and some are going to be really contrasty and crisp."
The transmission between the photographs and clones reflects the diversity of perspectives and creativity found in New York. Photos hang on gallery walls opposite the clones, which are interspersed with the store's merchandise.
"I really like how the clones are displayed next to cameras for sale," said Gallatin junior Lauren Milburn. "It makes you look at the cameras as pieces of art."
From futuristic museums to wax creatures and photographs of drag queens coated in glitter, as Moore said, the exhibit "really shows off what our town is doing."
"Diana Hearts New York" is on view at the Lomography Gallery Store, located at 41 W. Eighth St., Monday through Saturday, 10:30 a.m. – 9 p.m., Sunday 11 a.m. – 7 p.m.
A version of this article appeared in the Oct. 1 print edition. Emily McDermott is a staff writer. Email her at [email protected]