UPDATE: By Tony Chau
After initial reports that some residents had failed to receive notifications about the shooting, Beckman clarified that the notifications were intentionally sent out to specific dorms.
According to Beckman, voicemail, text and email notifications were sent out to residents of Alumni, Brittany, Founders, Palladium and Coral Towers residence halls.
"That determination was made by the public safety department based on the geography of the event," Beckman said. "They chose the residence halls closest to the event for the alert."
"We know that there are approximately 3,000 students in those residence halls and that we sent out a corresponding number of texts, emails and voicemails," he added.
However, if a resident of one of those halls was not notified, he urged those students to contact NYU Public Safety.
Article published October 1, 4:21 a.m. 
An altercation yesterday evening erupted across Third Avenue between two unidentified groups. The dispute ended when shots were fired outside Alumni residence hall. No injuries were reported and according to NYU spokesman John Beckman, no member of the NYU community was involved.
"The shots were fired away from the direction of Alumni hall," Beckman said. "Police are investigating very vigorously to find the identities of those involved and make arrests."
Pia Brar, a sophomore Liberal Studies student and Alumni hall resident, reported hearing gunshots at approximately 10:20 p.m. from her room. Ameer Muhammed, a sophomore in CAS, reported hearing five to six shots. The exact number of shots is unconfirmed.
"My window faces West Third Avenue, across Duane Reade," Brar said. After hearing the shots, Brar approached the window to look outside.
"There's this pedestrian signal on Third and Ninth, and everyone in that area was running away and some people were screaming," she said.
Shortly after, the New York Police Department arrived and blocked off the intersection.
"There were a bunch of cops that pulled up, and they were placing little cups on the street next to what looked like shell casings," Muhammed said.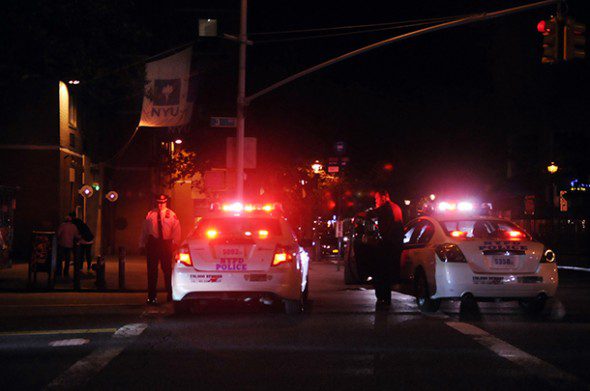 Following the arrival of NYU Public Safety, the NYU Emergency Alert System sent out a mass automated phone message, two text messages and two emails advising students to stay clear of the area. However, many students have reported that they were not notified with these alerts.
A resident assistant who wishes to remain anonymous said she failed to receive any notifications from NYU Public Safety even though previous email trial alerts were successfully transmitted.
"I asked about alerts during RA training, and I was assured that they keep their system updated — all my information on Albert is updated- — however, the fact that I received no alert leads me to question the way in which alerts are sent out," she said.
Muhammed, who received a test text from the alert system, also did not receive any communication from the university during the incident. However, he stated that the absent transmissions did not affect his ability to obtain information.
"I received an email from my RA around [midnight], and she referenced that we should have gotten emails from NYU Public Safety, but I didn't get anything," Muhammed said. "I don't think it really made a difference."
According to NYU's website, the emergency communications service is a web-based application that sends real-time emergency short message service and calls to registered users. Students are asked to update their numbers on Albert. Beckman said registered users who did not receive the alerts should contact Public Safety.
At press time, NYPD did not provide any substantial developments, including arrests. NYU Public Safety later announced that the NYPD concluded its investigation and that the area had returned to normal conditions.
"This is very unusual event in New York City at this point in time. It's as notable for its rarity as it is for its scariness." Beckman said. "If any students have any information … they should get in touch with the police or public safety. Beyond that, there doesn't appear to be ongoing danger at this point."
A version of this article appeared in the Monday, Oct. 1 print edition. Additional reporting by Jordan Melendrez. Bridgette Doran is a senior editor and Amy Zhang is web managing editor. Email them at [email protected]