Diesel Black Gold Spring/Summer 2013
Four skateboarders descended two half pipes, as a model emerged from underneath, opening the Diesel Black Gold Spring/Summer 2013 collection.
The label's collection reflects urban scenes of the 1990s—graffiti, street art, sportswear and skating—in sharply tailored garments.
While the collection was predominantly black and white with a few distinct pops of color, designer Sophia Kokosalaki also incorporated a print directly inspired by graffiti.
"The print was on a wall in a graffiti park in London, so I went, took pictures of it and made the print," Kokosalaki said.
The colors of the graffiti print influenced Kokosalaki's palette for the entire collection. A black blazer and button up worn with grey slacks were accentuated with neon pink lining at the waist, wrists and ankles with a matching watch. A powder blue leather jacket was worn over baggy black pants and a black leotard, which zipped up the front.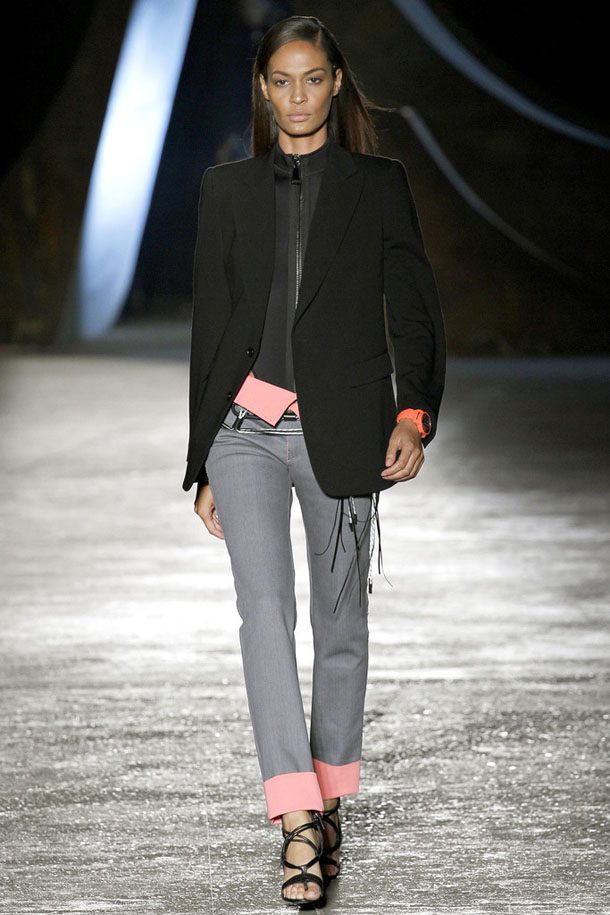 Leather, bonded fabrics and treated denim dominated Kokosalaki's use of matierals. Models wore dresses draped with netting, creating a hide-and-seek effect. Transparency contrasted opacity when netting was paired with leather.
Hair was parted on the far left of models' heads and worn straight down, tucked behind their ears, and makeup followed suit: fresh and nearly nude.
The collection featured both masculine and feminine silhouettes, while playing with the idea of refining and restructuring sportswear. It was, as Kokosalaki said, "sporty and very New York."
Emily McDermott is a contributing writer. Email her at [email protected]