Pittsburgh Synagogue Shooting Silences University
Over 300 students lined the steps of Kimmel in remembrance of the 11 lives lost Saturday morning.
A crowd of over 300 people was distributed throughout the entirety of Kimmel two days after what is believed to be the deadliest attack on Jews on American history. Over 20 student clubs hosted a vigil for the 11 lives lost in the Pittsburgh synagogue shooting.
The staircases were packed, with some onlookers having to lean over the balconies above to observe the vigil. At the front of the building, doors remained open as a flood of people spilled out onto the sidewalk, making it hard for New Yorkers to even pass by the building.
Among the massive crowds was Eliza Beltz, a Tisch first-year and Pittsburgh native whose home is only a few blocks from the Tree of Life Congregation where the shooting took place.
"The thought of one or more of the victims being someone I knew became extremely likely, and I began to break down," Beltz said. "For the majority of my life, I have thought of Pittsburgh as a safe and loving city, especially that of the Squirrel Hill community. With a horrible hate crime such as this shooting that took 11 lives, it is hard to view Pittsburgh in the same light."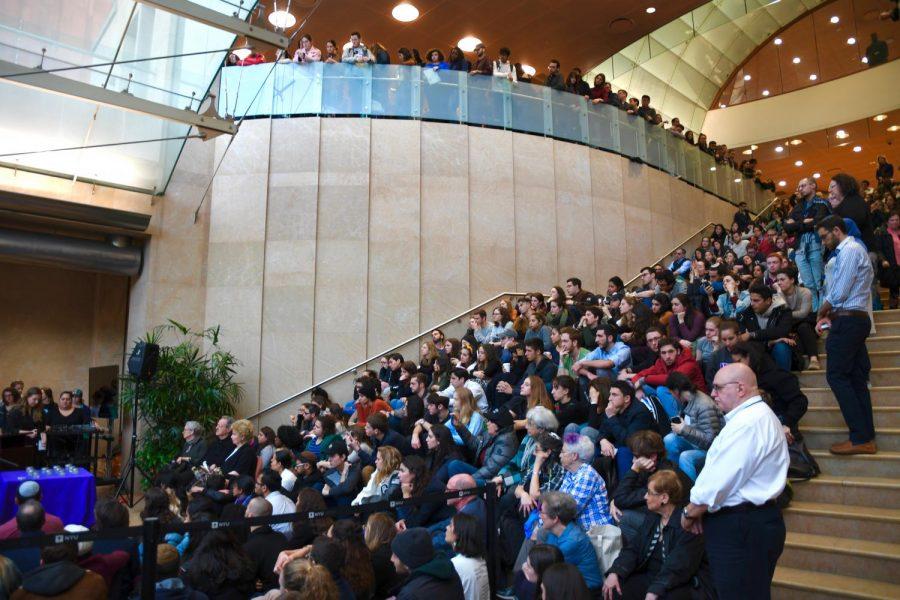 The neighborhood Beltz is talking about is Squirrel Hill — famous for being the real-life neighborhood of Fred Rogers.
The Tree of Life Congregation embodied the qualities of the city of Pittsburgh. Their doors were unlocked and unguarded when the gunman entered and opened fire on the congregation in prayer.
The shooting came at the end of a week filled with domestic terrorism. Packages filled with pipe bombs were sent to multiple public officials and news organizations shook the nation. Rabbi Joe Wolfson, a speaker at the vigil, told crowds that hatred is still alive and well in America.
"Anti-semitism is alive and well" Rabbi Wolfson said to vigil attendees Monday evening.
Reverend Romall Small, spoke at the vigil, emphasizing that the victims must remain in the university's thoughts.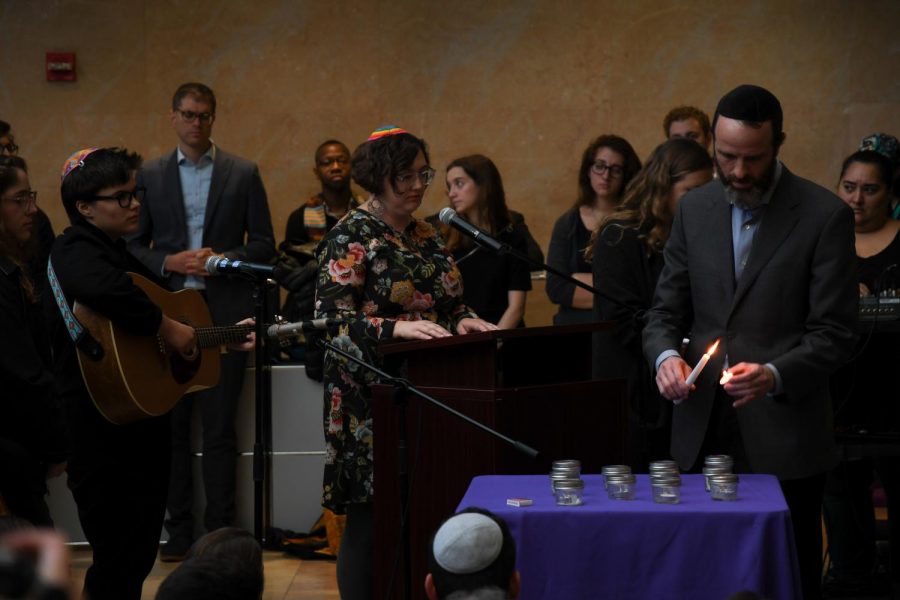 "We are all linked, we are all human beings on this planet earth," Reverend Small said. "We will remember [the victims] in our hearts and minds, but also in our actions."
There have been 294 mass shootings in 2018, and Beltz told WSN that thoughts and prayers are not working.
"Thoughts and prayers are certainly not enough," Beltz said. "The suspect that committed this crime was a hateful, anti-semitic [sic], but his weapon of choice was the same gun that has been used in countless shootings."
Although gun control was not among the debate at the vigil, Beltz said that it needs to be part of the conversation — especially with the arriving midterms.
"Voting this November is very important because we need the right people, who will listen to the voices of reason, in powerful positions with the ability to change the laws for more gun control," Beltz said. "This has to stop now and the AR-15 needs to be locked away for good. Lives are at stake."
Email Jared Peraglia at [email protected]