Nischala Meni | The Conductor
Posted on December 12, 2013 | by Michael Domanico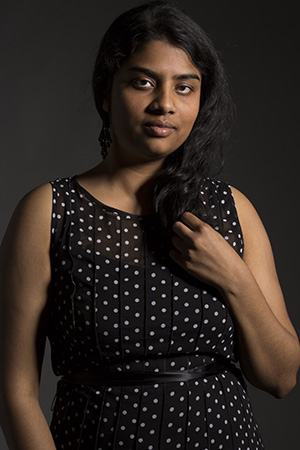 "You have to take the first step," CAS junior Nischala Meni said. "Making students take that first step is sometimes difficult, especially when [they] have to take a two-hour train ride home."
Meni uses her commute from Edison, N.J., to her advantage. Even with the constant back and forth, Meni has put down roots in the Kimmel Center for University Life, which she calls her favorite place in the city.
Kimmel is her hub — it's where Meni meets with other representatives in the Commuter Student Council, organizes events with the Class Activities Board of 2015, works as a commuter assistant for Stern commuters and is an office assistant in operations.
Despite the added stress of relying on a train schedule, she values her family above any monotonous travel.
"I like that comfort that I can go home every day, have my own room, be at home, see my mom, see my family every day," Meni said.
Even though Meni is now the epitome of commuter involvement, the transition into the lifestyle was not easy.
"At first it was really hard to adjust," she said. "In high school, I was really shy, so I thought, let me put myself out there. Let me take this risk and just step out, and I'll see how things go, and I'll work with it. I'll build myself up."
Meni formed connections early on, and these bonds opened the door to on-campus involvement. The Student Resource Center helped her grow into her role as an advocate for commuter students. For the girl who dreamed of being a lawyer at a bank, Meni has reconsidered her career options because of her positive experiences interacting with other students.
"I work with students so often, different types of students, and I started getting really into student affairs," Meni said. "This is something I feel like I really want to do, but student affairs has never really been a career for me … It's very new, and my family's also very new to it."
Meni's former Commuter Assistant Ksenija Mat, who graduated in 2012, noted Meni has been a leader since freshman year, when she helped organize events for her class.
"Nischala always made sure that everyone was on track and she always went above and beyond her responsibilities to ensure that her freshman peers had the best possible experience their first year," Mat said.
As part of the Commuter Student Council, Meni has pushed for student artwork and new furniture in the Commuter Lounge, but one of her more recent focuses might impact commuter students the most — priority registration for commuters.
"Being part of the advocacy board will help me express these ideas, and even give me a means of pursuing them," Meni said. "Because I also know I'm not the only one."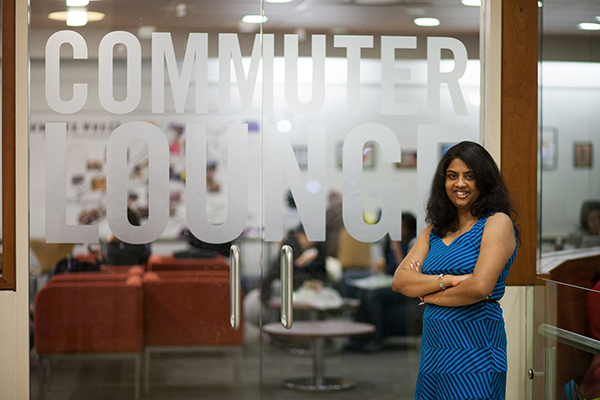 With CAB, she has united students in different schools, and she serves as the only commuter for the class of 2015's board. Meni said she knew she wanted to be involved in commuter student affairs, but her role in CAB has allowed her to connect to residential students as well. Meni's role as the board's vice president of administration has allowed her to focus on her favorite event of the year — the Fall Feast. Each year, hundreds of students flock to the event in search of food, friends and that often-elusive sense of community at NYU.
"[Meni] always brings the commuter perspective to our roundtable and will use her experiences with working with commuters to frame her opinions and suggestions for events," said Pilar Mendez, a Steinhardt junior and vice president of internal affairs for CAB.
The evening of the feast, Meni organized other members of CAB and assigned tasks. She doled out fake leaves and lights, and projected a video of a large fireplace onto one of the walls, cementing a sense of home.
For Meni, who spent the first nine years of her life living in Hyderabad, India, finding such a home is essential. After joining her father in the United States, Meni and her family moved to New Jersey. He has been in India for work since Meni started NYU. But because of visa problems, he has been delayed in returning home.
"One of the reasons [I commute] is so that I can be there for my mom and brother," Meni said. "It is especially important for my mom that I come home every day."
Meni credits her mom with giving her the drive to succeed. With that influence in her life, Meni hopes she can inspire others to take a similar first, difficult step to become involved.
"I want to be a leader, I want to make [my mom] proud of me," she said. "I want to make my path to the future, and I want to help people see that and find their own path."
— Michael Domanico
Studio photography by Alexis Bynum, other images by Rachel Kaplan/WSN