Shafeka Hashash | The Commander
Posted on December 12, 2013 | by Josy Jablons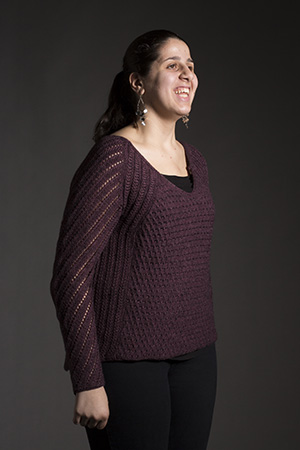 There is no such thing as a casual chat with Shafeka Hashash. The CAS junior is too intense for casual. Expect your conversation to last twice its allotted time. Expect to feel antsy. Expect to feel a heavy responsibility for aspects of the world that weren't previously on your radar.
"There is the oppressor, and there is the oppressed," Hashash said as we began our conversation about Palestine and Israel. "And I think that's what almost all issues can be boiled down to."
Hashash's twin interests in politics and disability work are deeply rooted in her personal life. A Palestinian-American, Hashash currently serves as co-president of NYU's Students for Justice in Palestine. She has organized campaigns and events to promote the awareness of both the Israeli-Palestinian conflict and international human rights.
Although she might have her critics, expect her to present a rebuttal with passion. It's not necessarily an orderly passion, but a gut-wrenching, visceral kind of passion that overthrows thought. When Hashash speaks, her whole body speaks. She captures your interest not only with her words, but also with her demeanor.
"There are hundreds of people in Latin America who need the job building houses [there]," Hashash said as we veered toward social justice. "Not you, white kid from Long Island."
Born blind, Hashash's second interest is disability work. This past summer, she took advantage of the Gallatin Global Fellowship in Human Rights to organize a seminar about the legal use of sub-minimum wages for workers with disabilities. The seminar enabled 20 college students to come together, learn about the issue and then organize campaigns on their own campuses.
As president of the New Jersey Association of Blind Students, Hashash acts as both a leader and a mentor to deaf and blind high school students.
"That's my hometown project," Hashash said. "So many kids are such regular kids, but their parents have never given them the ability to blossom socially. And that kills you in high school."
While these two interests might effectively describe her ambitions, they fall short in describing her character. Hashash, above all else, is an intense academic. There is no end, her friends say, to what she wants to learn and to what can be learned from her. She provides insight and perspective to the simplest conversation.
"My favorite thing about Shafeka is that she does everything … all the way," said Steinhardt junior Torrence Browne, a close friend of Hashash. "She puts 200 percent of herself into everything."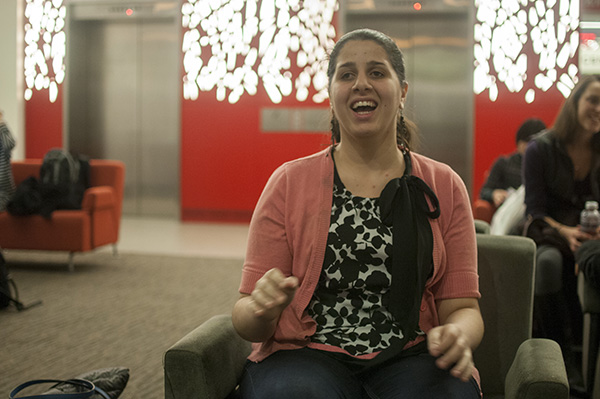 Hashash is a talker. Her friends say she has been known to spend hours on the phone, offering her notoriously frank opinions. She vocalizes her thoughts the moment they occur, acting on instinct. A conversation that begins about the New York City subway system will quickly become a discussion of human rights in Palestine. A rant about construction on La Guardia Place will somehow end with a lesson in feminism.
"I get off track a lot, I'm sorry," Hashash said, apologizing after breaking off on another tangent.
Those who seek out her guidance say her sarcasm is paired with patience, compassion, and a remarkable ability to listen. Nothing about Hashash is scripted, and it is this rare transparency that makes her so impactful as a leader of the SJP and NJABS.
"She is the greatest thing that has ever happened to me," said Mark Colasurdo, a junior at Cornell University and one of her close friends. "I can rest assured knowing that she will always be there for me."
But as with all blatant honesty, Hashash's unwillingness to compromise is both appreciated and rebuffed. During a meeting of SJP, members criticized her leadership of the group. In an argument with Browne, who lived on the same floor in Goddard residence hall, Hashash poured spoiled milk across his bed sheets.
"She will let you know exactly what she thinks and won't sugarcoat it," Browne said.
To Hashash, uncensored honesty is the most effective approach to activism. She is not afraid to evaluate others, just as she is not afraid to criticize herself.
"Only when you critique your efforts over and over again can you be helping out the cause to the best of your abilities," Hashash said.
She is currently pursuing a master's degree in political science. In the near future, she hopes to attend law school and work for a human and constitutional rights organizations, like the American Civil Liberties Union or Legal Aid Society. For her, there is no such thing as neutrality.
"Once you know things, you can't un-know them," Hashash said. "Whether that's for the better, or for the worst."
— Josephine Jablons
*An earlier version of this article incorrectly stated that Hashash was a leader of the NJADB rather than NJABS. WSN regrets this error.
Studio photography by Alexis Bynum, other images by Jonathan Tan/WSN