Fifty years ago and four blocks away from Washington Square Park, the modern movement for gay rights caught fire. In the early hours of June 28, 1969, resistance to police brutality at the Stonewall Inn led to riots that would redefine LGBTQ Americans' fight for civil rights.
To raise awareness of the Stonewall Riots on its 50-year anniversary, NYU has had a litany of programming that began last semester: on Thursday, this included the unveiling of nine panels of the AIDS Memorial Quilt in Bobst Library.
The quilt commemorates lives lost during the AIDS crisis, among them activists, artists, writers, celebrities and NYU community members. Some squares are dedicated to individuals while others represent groups such as incarcerated women. The panels on display are a small section of the entire quilt, which consists of over 48,000 hand-made panels.
In her opening night remarks, Tisch Arts professor and co-curator Karen Finley commented on the quilt's historical significance. 
"[The quilt] brings up so much emotion […] the quilts are archives for so many that were lost at a time in American history when they were not given dignity or respect," Finley said.
Finley and co-curator Marvin J. Taylor chose to highlight the quilt to help current students understand the pain experienced by previous generations of LGBTQ people.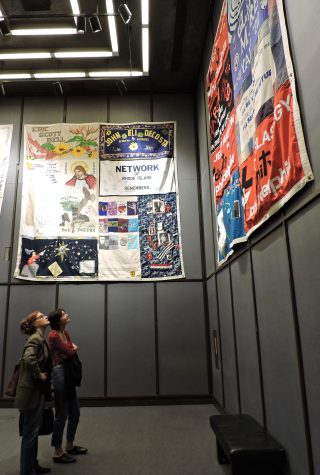 "Students are young and don't remember the trauma of AIDS. We would like younger people to understand that there was a time when the government didn't care about AIDS," Taylor said. "This battle nearly ended a whole generation, mostly due to neglect from the government. There's still a very important role that the quilt plays; it has incredible totemic power when you see it. It's heartbreaking and yet filled with love."
Tisch first-year Skylar Kim was moved upon viewing the quilts in person for the first time after learning about the AIDS crisis in an LGBTQ history class.
"Actually looking at them is so touching and so special because each one was made with so much love and care," Kim said. "You see the little pins and quotes and realize that these were real people."
Taylor said the quilt is a monument for lost generation of LGBTQ people and a symbol of healing for those who lived through the crisis.
"These are the warriors who died for civil rights, for queer rights; [viewing The Quilt] is like visiting a military graveyard," Taylor said. "They were venerated with art because they weren't venerated in any other way."
The AIDS Memorial Quilt is on display from Sept. 12 to Dec. 15 in the Mamdouha Bobst gallery, located on the ground floor atrium.
Email Adelaide Miller at [email protected].