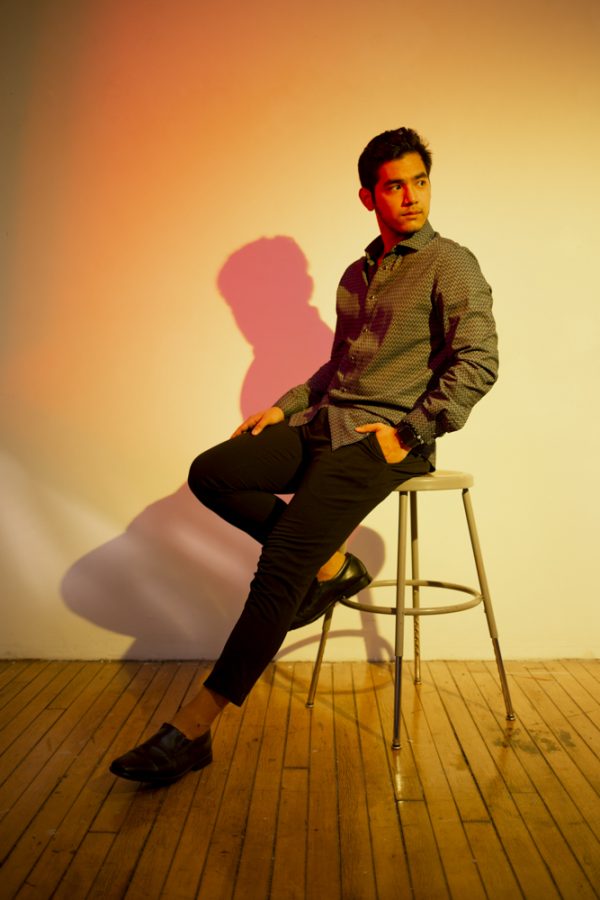 Mark limps into Bobst with a cast on his foot. There's a round Boba Guys sticker slapped on the side, but that holds my attention for only a second.
"What happened?" I ask him, a little shocked. I'd seen him only two days before — cast-less — and he'd already canceled an interview with me the week prior for a different medical emergency. "An allergic reaction I got to the cold," he'd told me in an email. How could someone be so unlucky?
"Well, after we met, I was tap dancing," he explains. An old ankle injury had flared up.
"Were you tap dancing in your room?"
"Yes."
"OK."
I laugh at him. He laughs at himself.
Mark Yokoyama isn't like most other people. He seems to end up in the emergency room a lot. Eight times so far this year, to be exact. That's because his lifestyle is notably extreme and often leads to serious health issues. This past summer, for example, Mark grew sick from radiation poisoning. It was low level, he assumes, but still led to hair loss, nosebleeds and sustained fatigue that kept him bedridden for a week and taking medication to this day.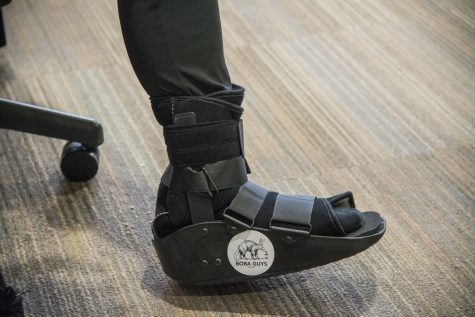 The thing about Mark is that he'll say something jokingly that throws you off, but then he'll get very, very serious. After we chat about his tap dancing and the subsequent dirty looks from his roommate, he gets back to his computer, where he's looking at a map of Japan.
"My favorite thing to do is to look at where I used to live," he says, pointing to the big red dot on Fukushima, a prefecture north of Tokyo.
Mark grew up in the countryside, seven kilometers from Fukushima Daiichi, the nuclear power plant that exploded on March 11, 2011, in what is considered one of the worst nuclear catastrophes in history. He was in his last class of the day when the ground began to shake and still remembers the exact time, 2:46 p.m., when the earthquake started to tremble, conjuring a tsunami and then the nuclear explosion that would transform his hometown into a wasteland.
Because he was at school in Tokyo at the time, a three-hour drive from his family home, Mark didn't immediately discern the severity of the situation. Then he turned on the news and watched his home fall apart.
"From God knows how many miles away, I watched my hometown be devoured by the tsunami," he recalls. "Everything changed."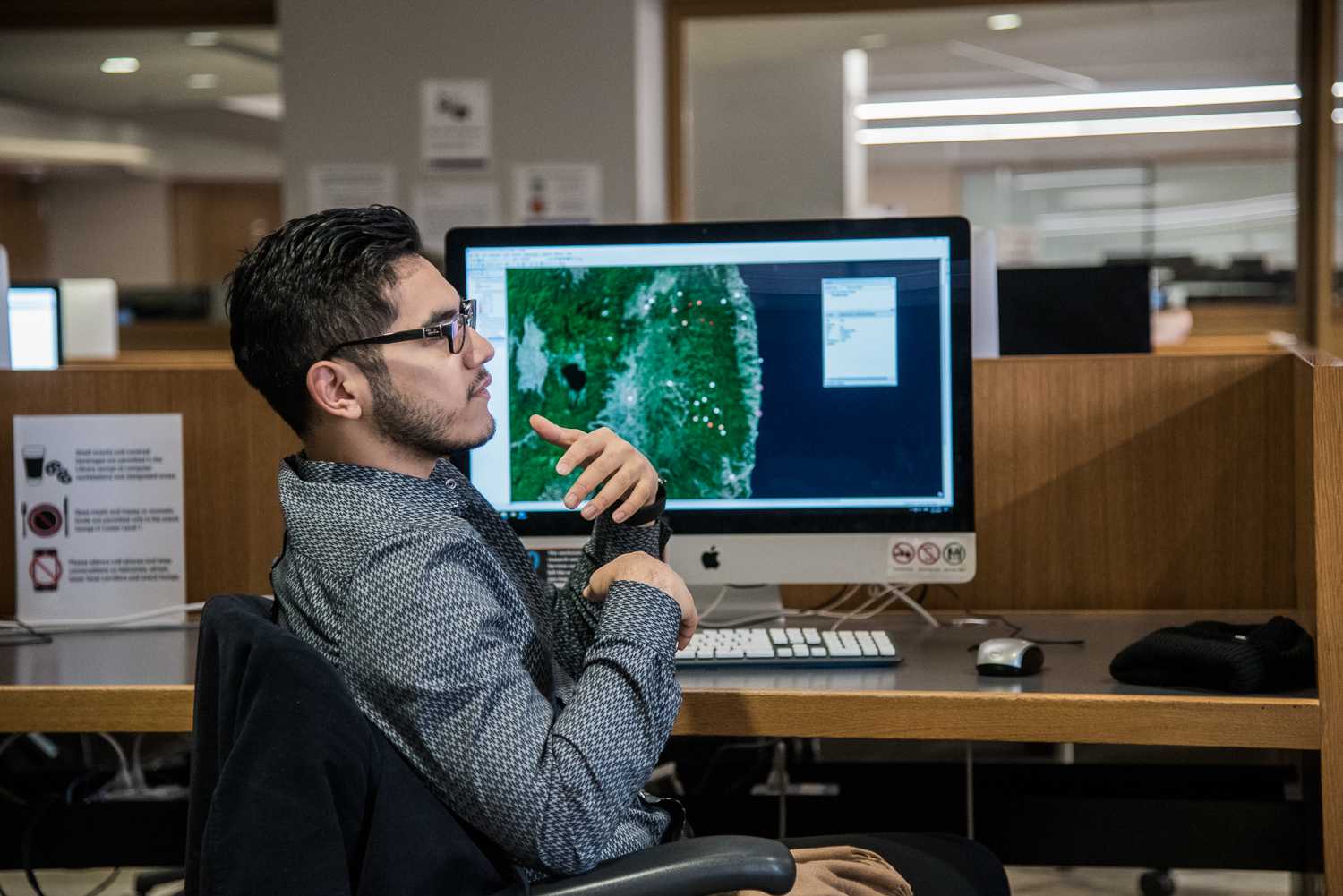 When he talks about it now, it's almost like he's back in the moment — fearfully waiting to hear from his grandma who was in Fukushima at the time, watching his neighbors lose their homes, realizing he would not be returning to his own for a long time. Almost eight years later — finishing up his third and final year of an expedited Public Policy degree — he sits in front of his map tracking radiation in Fukushima, a project he's working on with NYU's Marron Institute on Cities and Urban Development.
Though he's thousands of miles from Japan, his head is still fixated on his hometown.
"He told me about his experiences living as a refugee in Japan and quite honestly it was shocking that he could lead a normal life after seeing and experiencing some of the traumatic things he did," said friend and alumnus Robert Escobar, who met Mark during their first-year at NYU's Washington D.C. campus. "After the disaster, he realized that everything he cared about could be taken from him at any moment. He learned that the only person he could ever rely on is himself."
Every year since the disaster, Mark has returned to Fukushima, parts of which are still tainted by lethal levels of radiation. He's worked with nonprofits and government organizations, like Human Rights Now, to clean up the nuclear city, and has even taken to working alone to measure, by-hand with a Geiger counter, the levels of radiation in affected areas of Fukushima (hence the radiation poisoning). Ultimately, he wants to figure out the most effective way he can help other nuclear refugees, which is what he's been researching as a Gallatin Global Human Rights Fellow, an honor he earned at the end of his sophomore year.
"From God knows how many miles away, I watched my hometown be devoured by the tsunami. Everything changed." — Mark Yokoyama
If he's not up all night reading, which he'll often do until he passes out from exhaustion, hoping to learn everything about policy and economics to further inform his activism, Mark likes to wander. That's how he found NYU. He was living with a host family in Long Island, New York for nine days to test the waters in the United States and wandered away from his hosts during a trip to Times Square.
"I ended up in Washington Square Park, saw the amount of Starbucks, got really excited, saw all the types of people and saw the NYU banner all over the place and thought: I really want to go there," he said. "I couldn't understand how everyone could get along in the same park."
Where he grew up, people of different races didn't coexist in the way he saw that day in New York. As a child, Mark was ostracized from his community for being Japanese and South East Asian. The "bruises, blood and fist fights" that resulted from his bullying became so severe that he eventually had to move to an international school in Tokyo, where he was on the day of the disaster.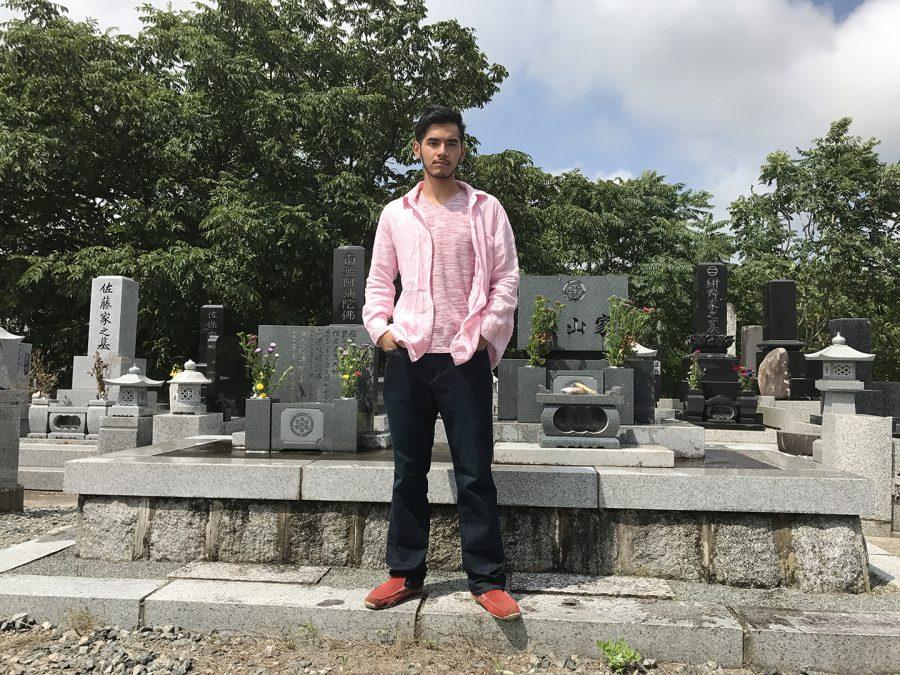 "I remember the way that the people looked at me," he said. "I always have that blood, so I don't look like a Japanese. No matter how much I [tried] to assimilate, in the end, I would always be, in the NYU term, 'other.'"
The explosion plucked him the sharp tongues that molded him into an outsider and dropped him in the middle of something more important than fitting in. If the explosion hadn't happened, Mark says he probably wouldn't have gone to college. The work he does defines him and has defined his time at NYU.
"He's very much determined to prove those people wrong," Mark's close friend Anna Filoneko, a recent CAS graduate, said of the people who bullied him growing up. "It's one of the driving factors of what he does, but obviously not the only one. He has a genuine attachment to his homeland and his region specifically, which I respect a lot."
Anna says that he tap dances almost every day — sometimes to rap music — and that it's not uncommon for her to enter his apartment and find him collapsed on the ground. "Coming home: Oh person on the floor! Well, sh-t happens," Anna laughs.
His incredible work ethic and the sky-high standards he sets for himself are what LS professor Louis Pataki says he first noticed about Mark when they met. Pataki worked with Mark on an independent study about nuclear power and political reactions to nuclear disasters.
"He sets very high goals for himself … and he meets them," Pataki said.
With a seemingly insatiable drive and a varied selection of interests, Mark has plenty of options post-graduation. Though he was offered a bid at J.P. Morgan, he wants to keep doing policy work instead and take advantage of what he sees as a unique opportunity to make a difference.
"Since the disaster, I've had many friends that went many ways. I had friends who turned to suicide. I had friends who decided to forget about their hometown completely and start a new life. Everyone made their own decisions based on their own rationale. But at the same time, I had the actual blessing to keep pursuing ways to try and fix the situation in front of us."
Email Jemima McEvoy at [email protected]. A version of this article appeared in the Thursday, Dec. 6 print edition. Read more from Washington Square News' "Influential 2018" special issue.