'Aamis' Team on Their Flesh-Eating Romance at Tribeca
WSN sat down with the director, lead actress, producer and composers of the Assamese film.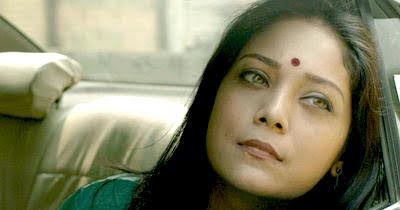 For all the surprises it holds, "Aamis," writer and director Bhaskar Hazarika's latest film, looks regrettably generic at first glance. A married clinician named Nirmali (Lima Das) and a younger man, Ph.D. scholar Sumon (Arghadeep Baruah), develop feelings for one another after a chance encounter. One would expect a cliched melodrama to follow, but instead, Hazarika's film takes a bizarre turn halfway through: Sumon serves his own flesh for her to eat as a way for them to get physical without ever touching. Nirmali becomes obsessed and the two embark on a transgressive journey to maintain their relationship.
"The idea was always that: alternative ways of touching each other," Hazarika told WSN. "It's such a ridiculous and weird idea, so how to make it plausible and seem logical was a challenge in the scriptwriting process."
The Indian film comes from Assam, a northeastern state in the country. The romantic tale gets stranger by the minute but is held together by Hazarika's confident direction and layered script. While the shocking subject matter could intrigue even the most skeptical viewer, Hazarika remained cognizant of some of the stereotypes of the romantic drama genre that could have seeped into the script.
"Even the romance part, you know they will eventually kiss," Hazarika said. "Here they don't, they eat each other. We try to make it mainstream so people will get sucked into the film, so [with] what actually happens, the shock is that much more."
Das, a formally trained dancer, boldly makes her feature film debut in "Aamis." She felt no hesitation working with Hazarika, especially since he is also a family friend of the actress.
"When I saw the trailer of his first film 'Kothanodi,' I somehow had this feeling that I want to do something like that," Das said.
Before commencing principal photography, the cast did a 10-day workshop, which Das cited as a great help. She also appreciated Hazarika's thorough approach to each scene and how he would help break down every moment before the camera rolled.
"I think all of us were very impressed with [Das] when we saw her in the workshop," Hazarika said. "And for me, I was thinking of all the possibilities of how I can use this person [for my film]. I was really surprised by the potential she had."
Another intriguing element of the film is its score by Toronto-based music duo Quan Bay, comprised of Aniruddha Borah and Tammy Nguyen. The duo took on the unique challenge of having to balance both the mainstream and alternative aspects of "Aamis" in every piece they composed.
"The idea of the movie is taking something beautiful and it becomes sick," Borah said. "That was the guiding force behind the music."
The artists intended for each track to be emotionally built so that it sounds heartwarming at the surface but has darker layers that reveal more discomforting sounds.
"One of the easter eggs that we kind of hid in the film a little bit is almost every chord or piece was actually referencing something most people were already familiar with," Nguyen said. "We referenced one bar by Beethoven, but we changed the key and setting tone entirely so when the audience [hears] it they'd be like, 'I heard this somewhere, but it's familiar and unfamiliar at the same time.'"
Of the international features to premiere at Tribeca this year, "Aamis" is the only Indian film.
"This is my first film as producer," Poonam Deol said. "In fact, this is my first film in any capacity. Getting here to Tribeca is a big, big ratification of what we did."
Das, ecstatic about the opportunity, related how the team could not have asked for more from this opportunity, and the rest of the team agreed.
"It does feel like every opportunity is the last one," Nguyen said. "It's good because it keeps you really hungry and you work really hard, but you know, we were also physically jumping up and down."
While the team is likely to promote the film to more international festivals, it will eventually make its way to India, where Assamese films have always had trouble attracting audiences away from the  commercially dominant Bollywood industry. Still, after the positive response at Tribeca, Deol is hopeful for the film's future.
"If a film is getting good reviews overseas, that kind of gives it a direction to the reviews we will have in India," Deol said. "I'm hoping ['Aamis' will] be received with more kindness."
Hazarika is unconcerned about the film's financial prospects despite the general approach to filmmaking in Assam.
"It's not commerce-driven, it's passion-driven," Hazarika said. "People make films, they often lose money and they make more films. Somebody has to suffer, mostly the producers. The second producer, [Shyam Bora], on this film, wants a controversy because that's good for sale. I don't know about that."
Regardless of how much money it may or may not make, Hazarika and his team have delivered a film that is self-assured on how unsettling and endearing it wants to be. "Aamis" stands as one of the most innovative films to premiere at Tribeca, and one of the most novel to come out of India in recent years.
A version of this article appeared in the Monday, May 6, 2019, print edition. Email Guru Ramanathan at [email protected]