Conquering Collegiate Hockey Against All Odds
Meet Jake Drucker, the NYU Hockey player who overcame a tumor and his father's death to live out his dream of playing collegiate hockey.
On the first day of training camp, NYU Ice Hockey Head Coach Chris Cosentino told his players, "Battles win shifts, shifts win periods, and periods win games." He emphasized the importance of attention to detail in practice and how it will lead to success in the long run.
For forward Jake Drucker, 20, a pre-law sophomore and Nassau Community College transfer student, the head coach's words reminded him of the lessons he learned from his late father: work hard and turn small opportunities into future success.
For as long as he can remember, Drucker knew the biggest connection he had with his father was the game of hockey, which played a pivotal role in the strength of the bond they shared.
"At the same time I was learning how to walk I was learning how to skate, and that was under his direct coaching instruction," Drucker said. "Any time he had off of work, he had me at the rink ice skating."
For Drucker's father, hockey played a vital part in a mental stability he longed for. While suffering from a wide variety of mental health issues that included suicidal thoughts, his father struggled to financially support his family from a young age in addition to the arduous tasks of the working world.
"The weekend was his only time to really have that release and escape from the stresses of everyday life," Drucker said. "That's why he really enjoyed [hockey] so much."
Under his father's wing, Drucker began to gradually rise through the ranks of competitive hockey. It wasn't until he was 15, while playing for a Tier II team at a showcase tournament, that he was picked up by a AAA team and his hockey career took off. Soon thereafter, Drucker signed his first contract to play for the New England Wolves in the Eastern Hockey League, a junior professional ice hockey league. It was the pinnacle of his youth hockey career: Drucker played in New Hampshire with his team and would occasionally travel up to Canada to compete. Drucker was officially a junior professional. Collegiate hockey was finally within reach.
Drucker climbed the ladder of competitive hockey as his dad cheered him on from behind the glass. His father, who played collegiately at the University of Buffalo, didn't have the same luxuries as he provided his son and was never able to pursue hockey since he had to stay home to help support his family.
"I think that in some sense of it, my career is a victory lap to him and his parents' hard work, like a tribute to their work ethic and success," Drucker said.
Drucker's strong work ethic would be put to the test when a sudden pain in his right leg took a devastating turn for the worse in the spring of last year, a few months before the start of his last season with the Wolves. "I didn't really think anything of it," Drucker recalled.
The pain was constant for two weeks, so Drucker decided to visit an orthopedist for a diagnosis. Drucker expected a confirmation of his suspicions, still all smiles sitting in the orthopedist's office. When the doctor came into the room, however, he had a stern look on his face — much to Drucker's surprise. The doctor placed his hand on Drucker's shoulder and broke the news.
"It was at that point when he just said the word tumor and everything stopped, my ears shut off after that," Drucker remembered. "Everything he said after the word tumor was just like silence and I was just lost."
The orthopedist gave him a referral to orthopedic oncologist Bang Hoang from Montefiore Medical Center, which he blankly stared at in the parking lot upon leaving the office. A biopsy of the tumor revealed it to be benign, but surgical intervention was still necessary if Drucker wanted to continue his playing career. The tumor was eating through bone causing a stress fracture, which was the source of his two-week-long pain. If the tumor remained, the bone would continue to deteriorate.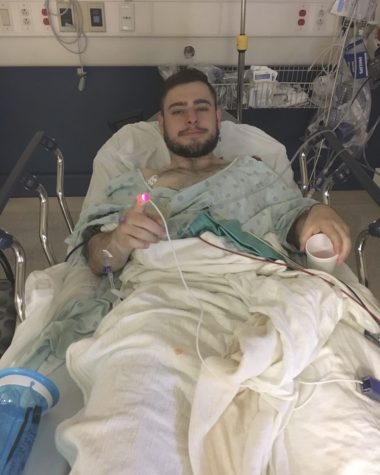 Drucker agreed to the procedure, and after a successful surgery, the rehabilitation process proved to be a testament to his impeccable work ethic. The grueling 12-week process involved hitting the gym every day, twice a day, seven days a week, working only on one leg because the now-tumor-free leg was unable to bear weight. During rehab, Drucker felt as if his muscles were atrophying. He still managed to stay positive.
"I can't workout on this leg, but I have two arms and another leg," Drucker said. "It's only 25 percent of my limbs I couldn't work out and there's 75 percent that I could keep pushing; I figured I could do everything else."
His childhood dream of playing collegiate hockey was what drove him through rehab. After already having played a few years as a junior professional, Drucker was hoping to be recruited by schools this upcoming year during his 2017-to-2018 season with the Wolves. There was this small window of opportunity for him, given his injury, to taste the success of being recruited.
"I pushed so hard, I was already 90 percent of the way there," Drucker said. "I needed to finish the right way."
His efforts paid off when in Oct. 2017, he was recruited by the NYU ice hockey team. With NYU sporting one of the nation's top pre-law undergraduate programs and a top-10 law school and the allure of playing hockey at NYU seemed irresistible to Drucker, who also dreamed of making a career in legal practice. Drucker had already been academically preparing himself for a moment like this by taking online courses with Nassau Community College on Long Island while playing junior professional hockey. He realized that he was taking a very unconventional route towards playing collegiate hockey, but he had no regrets.
The league NYU plays in offers the path to professional hockey for players if they choose to pursue it, but for Drucker, college hockey is more important to him right now. Drucker's biggest goal in hockey is to contribute to a national championship.
"NYU's hockey team has a rich recent history of winning a lot of national championships and [that], from an athletic standpoint, is really important to me," Drucker said. "Choosing NYU over any other school, in my opinion, maximized that opportunity for me and it's something that I want to be a part of."
Things finally seemed to be on the upswing after his tumultuous journey just a few months prior. Months passed and it seemed as if hockey and the anticipation of getting into NYU were the only things on Drucker's mind. But after a typical game in Massachusetts in March of this year, Drucker received the call that no one wants to get.
Upon exiting the rink at 1 a.m, a call from his mother informed him that a heart attack took his father's life. Drucker stood motionless in the parking lot of the rink.
"I was in the middle of this nowhere town, just desolate, dark, cold and I was alone," Drucker recalled. "Being alone right there was almost being personified because there was nothing around me, no one to console me, nothing going on, so I was just stuck in my thoughts."
The man who sparked his hockey career, who taught him what it meant to work hard, who cultivated him into the man he was, was gone. Although his father's sudden absence left a hole, Drucker was not alone though this tragedy. His mother had always been supportive through his life growing up and paired with his father, they created a duality of extreme positivity from his father and realism from his mother. In them, Drucker found a medium of those ideologies to live by. While his mother was there to help him through this dark time, she couldn't do it all alone.
"My [paternal] grandfather and my uncle have done a terrific job in attempting to fill the void left by my father's passing," Drucker said. "There's always someone I can call to talk about things that you might not talk to your mother about. Without that, I'd be, at least mentally, in a different more adverse place."
With the help of the rest of his family, Drucker continued to strive for his dreams while mourning the loss of his father. Drucker knew that his father was forever with him through his words of wisdom, regardless of the lack of his physical presence. His father's guidance was still there. Drucker pushed on.
By the time June came, Drucker found himself in a situation like none other he's faced before. He had another seemingly impossible obstacle to climb, the only difference being his father would no longer be by his side to face it. Drucker's NYU decision letter was one of rejection from the College of Arts and Science. Although it seemed as if his world was caving in on itself once again, the person he was taught to be didn't let him accept this as an abrupt end to his goals.
Drucker sought to find another way to pursue his dreams, which he found at the School of Professional Studies. NYU admissions counselors told him that he could re-apply to SPS as a transfer student, but to do so he needed to have 60 credits from a previous high level institution. From all the online courses he took as a part-time student at NCC, it only amounted to 27 credits. That meant for him to be eligible to apply, he had to somehow accumulate 33 credits within the span of two months. There was the opportunity, granted it was small, there for him to succeed; the situation seemed all too familiar.
During NCC's summer session, Drucker battled through taking nine classes within the 10 week period.
"I think it was a great test to see if I could survive here at a university like NYU," Drucker reflected. "From that point on, it was the same feeling I got from overcoming the tumor. Physically, after I finished [surgery and rehab] I felt like I could do anything athletically. Whereas once I finished nine classes in 10 weeks, it was that same feeling that I could accomplish anything in terms of school."
Drucker finished with an overall GPA of 4.0 during that summer session. With that, he re-applied to NYU and finally received the letter of acceptance in late August that he expected back in June.
It's the work ethic that's a tribute to his father's influence on him. The work ethic that took these small and seemingly impossible-to-achieve opportunities and turned them into long-term success.
"I'm not a superstar; I'm a hard worker," Drucker said. "I got here through hard work, not by skill."
A version of this article appeared in the October 22 print edition. Email Zach Han at [email protected]