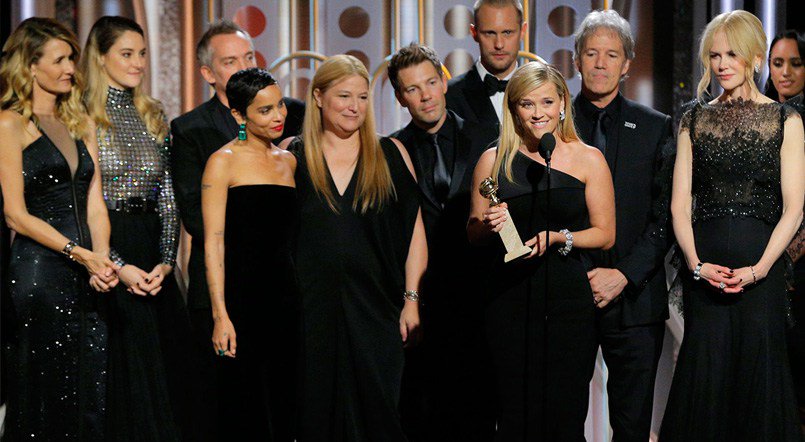 At this year's Golden Globes, one of the highlights of the night was the wave of black throughout the crowd to show support for "Time's Up" and the #MeToo movement. "Time's Up" is a legal defense fund created by over 300 women in the film and TV industries to stand up against harassment, abuse and assault in the workplace.
While fashion is sometimes perceived as a superficial outward expression of personal style, many have used fashion throughout history to protest and raise awareness about different causes. Fashion is not only a tool for self-expression, but it is how people display their values. After all, what is closer to your heart than what you wear on your skin? The all-black fashion statement complete with pins that read "Time's Up" showed widespread support for the movement and all victims who have been harassed or abused in the workplace.
In the past, people at various award shows have used pins to draw attention and show their support toward a cause or initiative. At the 2017 Oscar Awards, many attendees wore blue ribbons to show support for the American Civil Liberties Union during the series of travel bans proposed by President Donald Trump. At the 2016 Tony Awards, stars wore silver ribbons to honor the victims and families affected by the Orlando nightclub shooting that occurred earlier that day. However, the 2018 Golden Globes was the first time in recent memory that a majority of attendees wore black to unanimously stand up for a single cause.
Fashion statements, like the all-black dress at the Golden Globes, have been made many times before. All-white was worn in the early 1900s by the suffragettes — women who wanted to earn the right to vote in the United States. This all-white fashion statement was revived just recently when a number of different congresswomen wore white during Trump's first speech to Congress. In the 1960s, the counterculture movement used fashion to outwardly display its values as a movement, straying from traditional fashion, like sheath dresses and shift dresses, and opting for flowy skirts, tie-dye, flared pants and long hair. At the Women's March in 2017, millions of women everywhere sported pink pussy hats to protest Trump and to show support for feminism.
Even fashion moguls have used fashion as a means of protest in their various collections. In Chanel's Spring-Summer 2015 runway at Paris Fashion Week, the show was all about feminism, complete with a faux-street runway and models with signs of protest in hand. The signs had phrases like "history is her story" painted on them. At Talbot Runhof's Fall 2017 runway in New York, Runhof showed off a collection of truth amid the lies and fake news plaguing the nation. Pieces were marked with phrases like "unpresidented," "persist," "sad!" and "lie to me." Anish Gupta displayed a Fall 2017 collection at London Fashion Week with pieces that included statements like "more glitter, less twitter" and "nasty woman," among others. The fashion world has never hesitated to spread political or cultural messages, particularly in the past few years.
A version of this article appeared in the Jan. 22 print edition. Email Caroline Weinstein at [email protected]