NYU Student Sentenced to 45 Days in Jail for Albatross Murders
Tisch junior Christian Gutierrez was sentenced to 45 days in jail for his involvement in a case that left over 15 albatrosses slaughtered in a Hawaii nature reserve in December 2015.
In addition to his immediate detention, Gutierrez was sentenced to 200 hours of community service and will pay $1,000 in restitution for damages to the nature reserve that reportedly totaled over $200,000. In sentencing, the court also rejected the defense's request for a deferral of Gutierrez's no contest plea, which would have permitted the defendant to seek an expungement of his record.
Although Gutierrez will be released from custody in time for the start of fall semester, his defense attorney, Myles Breiner, refused to answer whether Gutierrez plans to return to NYU in the new academic year.
In response to the ruling, a petition demanding the expulsion of Gutierrez has gathered almost 2,000 signatures in less than 24 hours. According to the coordinator, Timothy Pham, a letter attached to the petition will be delivered to key decision-makers at NYU, including President Andrew Hamilton, Chief of Staff to the President Rich Baum and Senior Vice President of Student Affairs Marc Wais.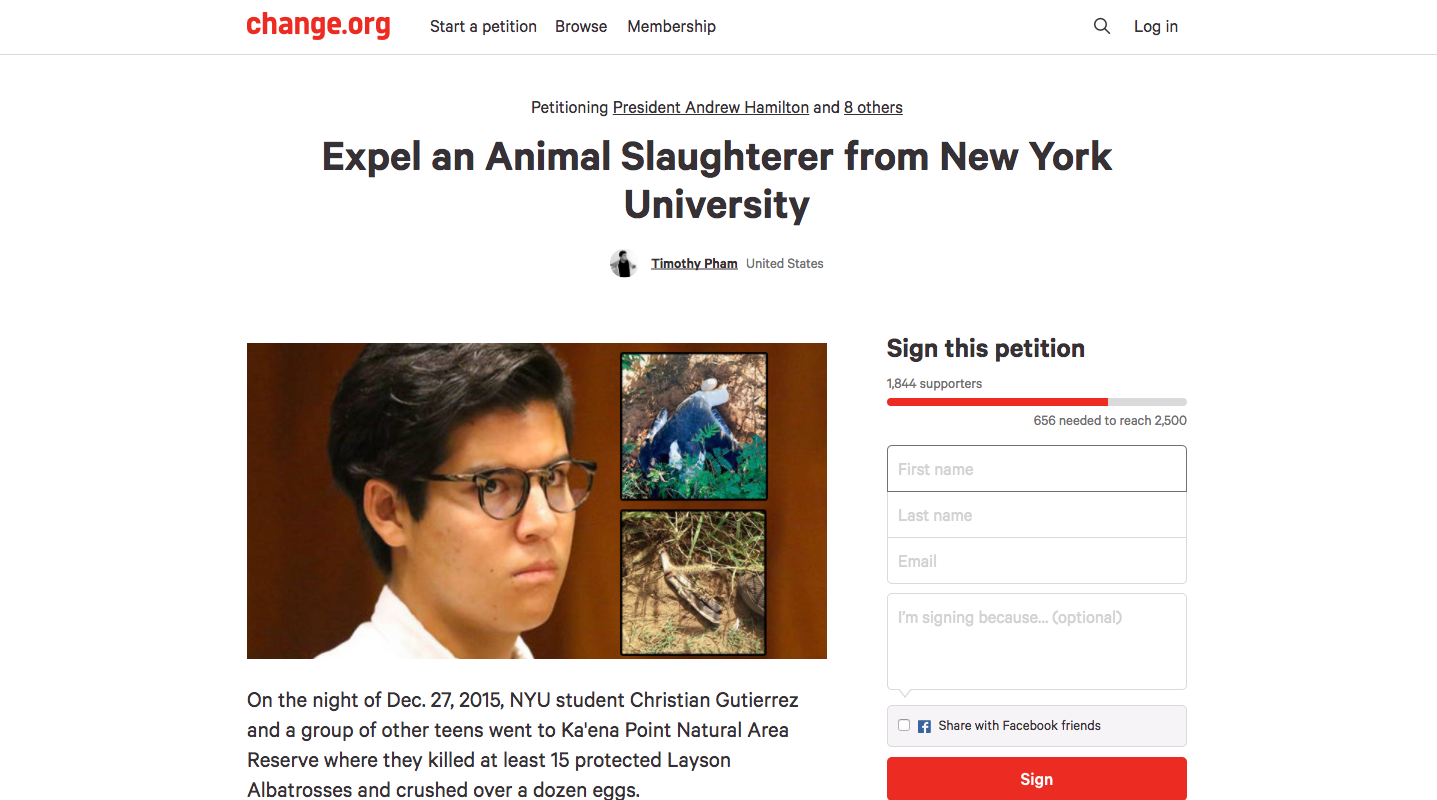 NYU SpokespersonJohn Beckman said that due to federal privacy laws he is unable to discuss an individual student's academic or disciplinary record. Hence, at this point any potential punishment from the university is unknown.
"I cannot comment other than to say that matters like these are handled on a case-by-case basis," Beckman said in an email. "And the university is prohibited by law from discussing issues related to a specific student."
The letter cited the violent nature of the crimes against the seabirds as justification for the demand to the administration — the albatrosses were shot with pellet guns, beaten with a bat and attacked with a machete to remove ID bands from their mutilated feet to use as souvenirs. The defendants later posted pictures of the murdered birds on social media.
"Christian Gutierrez, the oldest of the group, was an 18-year-old student at NYU at the time," the petition reads. "As of July 6, 2017, he faces 45 days of jail time of the one year possible. His felony theft and 15 original counts of animal cruelty should not be overlooked by New York University. We are demanding the expulsion of Christian Gutierrez immediately."
Executive Director of the Pacific Rim Conservation Group Lindsay Young said in a statement to Washington Square News that in her opinion, Christian should be allowed to continue at NYU.
"He has been punished for what he did and deserves the opportunity to resume his life once he is released from prison," Young said. "People may not like that sentiment, but to me, punishment and forgiveness are not mutually exclusive. I believe in both and even as a victim of his crime, I believe he's been punished enough."
Gutierrez was charged with three misdemeanors and two petty misdemeanors in court on Thursday for the crimes that were committed along with co-defendants from his Honolulu prep school. The charges dropped dramatically from the original 19 — including animal cruelty and theft — when Gutierrez agreed to testify against others who may have been involved.
Spokesperson for the Honolulu prosecuting attorney's office Chuck Parker said that although Gutierrez was sentenced to less jail time than the prosecution initially proposed, there were positives to the judge's sentence.
"We wanted more jail time but we are very happy that there was no deferral — that the deferral request was denied," Parker said.
Before Gutierrez was sentenced, he apologized to the court and those who work at the Kaena Point nature reserve. He was subsequently handcuffed and escorted from the room.
"People have every right to be angry and disgusted with my behavior," Gutierrez said in court, according to a report from Honolulu Civil Beat. "I'm disgusted with my behavior, too. I wish I had the courage not to go along, but I didn't. I'll have the memory of that forever."
Young said that the Pacific Rim Conservation Group is grateful for all of the community and professional input that led to the conclusion of this case, although its end has been bittersweet.
"While we are relieved to be closing this painful chapter and feel that justice has been served for our wildlife, we also recognize that any time a young person is sent to jail is a sad day," Young said.
Email Jemima McEvoy at [email protected]