Slimane's Club Kids Are Canceled
Celine's newest creative director has rocked the fashion world with his pitch-black and regressively edgy Spring 2019 collection.
A polarizing collection chilled Napoleon's tomb in Paris this past Friday. Hedi Slimane emerged from the shadows and onto the runway for the first time since 2016 to present his first collection as creative director of Celine. 
Slimane's meticulous darkness was once celebrated. His edgy silhouettes at Dior Homme pointed menswear away from decades of oversized clothes; his collections saturated with leather and animal prints gave a new identity to Saint Laurent. Slimane single-handedly introduced a new character into luxury fashion — the club kid. 
This kid, skinny and punk — occasionally referred to as bratty — doesn't match up to the Celine the industry has known and loved. At the hands of Phoebe Philo, the brand produced designs in the vision of the female gaze. She famously reinvented Celine into a refuge for successful women; the serene image of powerful, understated beauty was created through her soft hues, tasteful prints and forgiving silhouettes.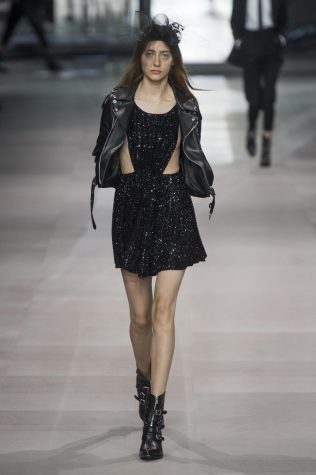 via vogue.com
The stark mismatch between designer and haus, orchestrated by parent company LVMH, caused a initial social media uproar. Slimane's collection met all gloomy expectations.
Prickly and impossibly petite models stomped through Slimane's show. His styles left no room to flatter curves. As anticipated, multiple leather jackets stalked through — in typical Slimane style, totally disregarding the seasons.
Slimane did a few things that could arguably be perceived as interesting. He included menswear— a first for the brand— and he ignored streetwear trends entirely, setting himself apart from many contemporary designers.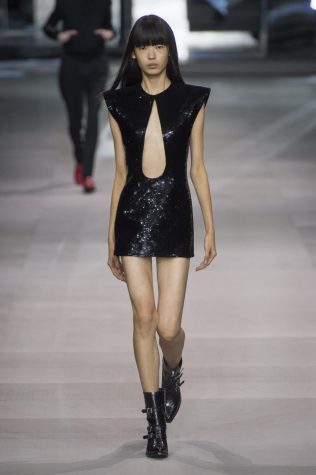 via vogue.com
It's no secret that only a few NYU students shop Celine — where pieces are typically at least four figures. But fashion-forward students understand the effects and the larger narrative at hand. The collection articulated a unmodernized wave in fashion that doesn't coincide with youth.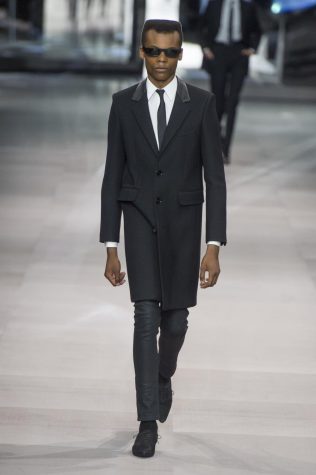 via vogue.com
"No one really cares about his brooding heroin chic vision anymore," LS sophomore Alice Lammers said. 
"I saw a really good article about how the show came off really arrogant and almost Trumpian," Lammers shares. "Slimane thinks that he can do the same this over and again without anyone challenging him." 
Slimane's flat darkness is not dissimilar to the darkness of Donald Trump — a comparison that has been made more than once.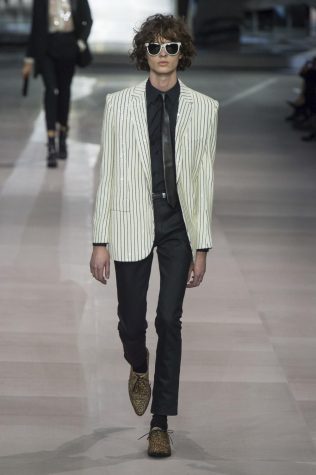 via vogue.com
"More of the same shit," LS sophomore, Adam Fried, says. "For the people who like the aesthetic it's great, but to go to a brand new house with such a distinct look and rehash the same ideas from SLP [Saint Laurent Paris] is boring."
Beyond dull repetition, the looks did not always impress.
"The looks were bad," CAS sophomore Cedric Gambill said. "Hedi didn't understand the brand's image and gave 94 looks without congruity."
The verdict is in, and students, as well as industry members, are not buying it. Maybe the controversy over the collection is speaking to a larger narrative toward a changing field. Fortunately, the public wants the punks out and are ready to make room for the contemporary woman.
Email Amanda Burkett at [email protected]